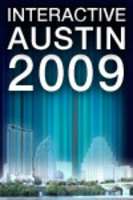 Web 2.0 strategies will drive any organization forward, to not only survive present economic circumstances, but to create growth and innovation while transforming in response to a profound shift in the business landscape
Austin, Texas (Vocus) February 19, 2009
Business District Magazine announces Interactive Austin 2009, ''How Social Media Can Enhance Enterprise Profitability,'' a regional forum to discover how to integrate social media, Web 2.0 tools and digital media into the corporate marketing plan to improve profitability. This is the second year that the digital conference is being held in Austin to highlight the social media and interactive professionals in the Central Texas area.
The April 27th event will be held at the Norris Conference Center and will include keynote speakers Dion Hinchcliffe, Founder of Hinchcliffe and Co. and Web 2.0 University along with William Hurley (known as whurley), Chief Architect, BMC Software and Chairman of the Open Management Consortium.
Hinchcliffe, globally renowned business strategist and enterprise architect, will open the conference with an overview of how companies can harness social media and web strategies to revamp their business and thrive on the social web. As Editor-in Chief of Social Computing Magazine, industry commentator for ZDNet and global Web 2.0 consultant, he offers a comprehensive understanding of the real-world needs of corporations from an organizational and technological perspective.
"Web 2.0 strategies will drive any organization forward, to not only survive present economic circumstances, but to create growth and innovation while transforming in response to a profound shift in the business landscape," states Hinchcliffe. "Former business education and IT practices are mattering less and less. Everything that we do today is significantly impacted by 2.0 ideas - product development, marketing, customer service, operations, lines of business, finance, communications and human resources. The key is to understand the axes of opportunity and how to apply it to our organizations."
William Hurley, whurley, will open the second half of the conference with ''Future Technology Trends and Their Impact on Business and Culture.'' whurley is the chief architect of open strategy at BMC Software, Inc., where he sets BMC's open source and cloud computing agendas for the office of the CTO. A technology visionary who holds 11 patents, whurley brings 16 years' experience in developing groundbreaking technology. An IBM Master Inventor, whurley has received numerous awards, including an IBM award for pervasive computing and an Apple Computer Design Award.
FG SQUARED, the title sponsor of Interactive Austin, supports the event each year to bring awareness to the fact that Austin is a hub for social media talent and expertise. The one-day conference will have separate tracks dedicated to Leadership, Interactive Marketing Best Practices, Social Capitalism, Practical Applications and Case Studies. The variety of topics will serve both experts and novices in understanding how to integrate Enterprise 2.0 and social media into their business practices.
More details - including sponsor packages, exhibit details and on-line registration are available at http://www.InteractiveAustin2009.com and the most current updates on the event can be followed on Twitter at #IA09.
About Business District Magazine
Business District Magazine is published bimonthly to a circulation of 10,000 readers throughout Central Texas and provides content and editorial that is relevant to the local business community, showcases innovative business models and fosters the area's entrepreneurial spirit. Business District also publishes an email newsletter three times per week to the Central Texas Tech community (http://www.bdtechdaily.com ), and hosts several conferences every year that promote area business growth, including the Central Texas Entrepreneur Funding Symposium, and The Austin Open4Business Conference. Subscriptions to the magazine, newsletters and conference information can be found at http://www.abdmag.com .
###