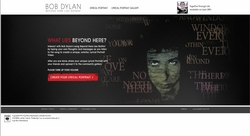 With a high level of involvement and engagement, this causes the viral effect and consistently produces a higher likelihood of the user ultimately buying the CD. The combination of a unique user experience with the rarity of Dylan's lyrics has encouraged the high number of users and enabled the campaign to really take off
New York, NY (PRWEB) April 17, 2009
Sony Music Entertainment has launched a site to support the upcoming release of Bob Dylan's new album, Together Through Life, called Beyond Here Lies Nothin, developed by the interactive agency VerticPortals. A song of the same name is one of the key hits to be found on the new record and is available to download for free.
The site allows users to mash messages and lyrics along with Bob's to create a unique lyrical portrait video. A recorded video message can then be uploaded to a community gallery to be shared with others, or the creation can be sent onto friends in an e-card. For users preferring to leave the creative talents to others, there are also pre-made lyrical portraits that can be sent.
The concept of Beyond Here Lies Nothin is built around engaging and entertaining users while encouraging them to be inspired by the music and create their own unique piece of artwork. It is the first time that lyrics from a Bob Dylan song have been released prior to the record, which has led to a steady stream of visitors to the site already. Launched at the start of April, the site has already had over 15,000 unique visitors in its first week and that number is expected to grow upon release of the album.
Sebastian Jespersen, CEO of VerticPortals, adds, "We are delighted to be working once again with Sony Music Entertainment on such an interactive campaign. Bob Dylan's loyal followers are very much your archetypal creative types of listener -- they are inspired through his music in their own distinct way -- and so we wanted to provide them with a platform through which they could truly express their individual feelings of what the song means for them. At the same time, we did not want to alienate music lovers of all genres and those who are not traditional Dylan fans; therefore, we created a simple functionality that would resonate with all those who wish to be creative."
In addition to sharing the lyrical portrait in the site's gallery, beyondhereliesnothin.com is also integrated with social media and mobile phone. Users can share the work through Facebook, MySpace, Wordpress, Blogger, StumpleUpon and Digg. The lyrical portrait can be downloaded as a desktop wallpaper and even iPhone background image.
"With a high level of involvement and engagement, this causes the viral effect and consistently produces a higher likelihood of the user ultimately buying the CD. The combination of a unique user experience with the rarity of Dylan's lyrics has encouraged the high number of users and enabled the campaign to really take off," says Jespersen
The work with Sony Music is one of many projects between Sony Music and VerticPortals, includ-ing sites for Mariah Carey's "The Ballads" CD and Elvis Pressley's "Duets" CD.
Together Through Life, Bob Dylan's 46th album, is released by Columbia Records on April 28th.
Operating out of Copenhagen and New York, VerticPortals counts Microsoft, Hewlett-Packard, Medtronic, Harman Consumer, GlaxoSmithKline, Carlsberg and Nestle amongst its clients.
Find out more at VerticPortals.
###