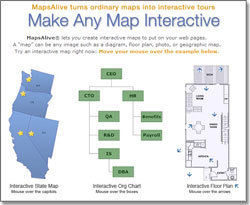 If you can create it with SmartDraw, you can make it interactive with MapsAlive. SmartDraw includes thousands of templates and examples that make it easy to create maps, graphics, and floor plans
Waitsfield, VT (PRWEB) September 30, 2008
AvantLogic, developers of MapsAlive, the premier interactive map and floor plan application, is now offering a free copy of SmartDraw 2009 with a MapsAlive purchase. SmartDraw 2009, the popular visual productivity software, contains dramatically enhanced functionality and exclusive new features that help business people improve communications, better organize ideas, refine their operations and simply work smarter. SmartDraw is ideal for creating the floor plans, maps, and diagrams that can be made interactive with MapsAlive.
"If you can create it with SmartDraw, you can make it interactive with MapsAlive. SmartDraw includes thousands of templates and examples that make it easy to create maps, graphics, and floor plans," said George Soules, President of AvantLogic Corporation. "SmartDraw and MapsAlive compliment each other well - both products let ordinary computer users get professional results."
SmartDraw 2009 floorplans include "smarter" walls and easier manipulation of shapes, as well as easy snap-on windows and doors. New dimension lines and area measurements make creating accurate floor plans easier than ever. Because SmartDraw draws for them, real estate professionals, building managers, and contractors can easily create a professional, accurate and detailed landscape or interior plan, which saves time and brings the property to life for the customer.
With SmartDraw and MapsAlive, users can quickly create high-impact graphics and turn them into compelling interactive tours. Interactive floor plans and maps can be embedded directly into web pages for seamless presentations, and informative and appealing websites. Any MapsAlive purchase of $247 or more is eligible for a free copy of SmartDraw.
To try MapsAlive for free, visit http://www.mapsalive.com.
About AvantLogic:
AvantLogic is the creator of MapsAlive, a web application that can make any map interactive for use on web pages. A map can be any image such as a diagram, floor plan, photo, or geographic map. Interactive maps allow viewers to move their mouse over markers to quickly gather information and see images and text associated with locations on the map. MapsAlive is popular among residential and commercial real estate professionals, and is also used to create interactive location maps and web content for travel and tourism, education, and law enforcement.
Based in Waitsfield, Vermont, AvantLogic was founded in 1999 as a software consulting company specializing in web applications, commercial grade software, and safety-critical computer systems. Clients include ABC Television, Bombardier, DaimlerChrysler and the New York Power Authority. AvantLogic launched MapsAlive in 2007, and is now focused on making MapsAlive the premier tool for creating online interactive map tours.
About SmartDraw.com:
SmartDraw is the world leader in visual productivity software, creating the first program that empowers ordinary computer users to create presentation-quality business graphics in minutes. Realizing that a "picture is worth a thousand words," more than three million people annually install and use SmartDraw to help improve communications, better organize ideas, refine operations and simply work smarter. In addition to SmartDraw 2009 for general business, education and home use, the company also offers SmartDraw Healthcare and SmartDraw Legal editions which include graphics and applications unique to their respective fields. The company's loyal customers include more than half of the members of the Fortune 500, nearly 2,000 K-12 schools and universities, and thousands of law firms, police departments, health systems and private enterprises of all sizes. Founded in 1994, SmartDraw.com is privately-held and based in San Diego, CA. For more information on the company or to download a free trial of SmartDraw, please visit http://www.smartdraw.com.
###