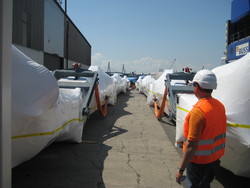 Braintree, MA (Vocus) October 12, 2010
Liberty Packaging Co.'s Intercept Technology Group colleague in Australia, Under-Raps, has successfully established Intercept corrosion packaging protection within the oil, gas, and supporting industries in Australia. In years past, oil and gas equipment shipped on transoceanic freighters routinely suffered corrosion unless packed below deck and heavily coated with oil. When packaged with flexible Intercept Technology packaging, equipment can now arrive clean and oil free. Intercept allows for equipment to be shipped top deck and/or stored in plants and rigs where highly corrosive environments like salt air and industrial corrosive gases exist.
For example, Intercept has been used for the storage of equipment for Woodside in Western Australia's Northwest Gorgon project, as well as for national oilwell shipments from Europe. Prior to utilizing Intercept protection, it had been a challenge protecting such cumbersome industry equipment as undersea umbilicals, riser pipes, power generators, turbines and turbo equipment, subsea pumps, racking systems, polishing rods and pig launchers. Not only does Intercept Technology packaging allow the equipment to arrive to destination in clean condition, but handling is easier because the equipment can be wrapped and protected in the lifting frames and/or provides easy access to lifting points.
Another advantage is that Intercept woven-style material is reusable for such items as cyclone/hurricane covers over electrical boards and cabinets. Intercept Technology has won environmental awards in Europe and Africa.
Intercept Technology reactive flexible plastic packaging creates a reusable barrier around valuable assets that are stored and shipped. Intercept Shrink Film allows large, irregularly-shaped items to be shipped by less expensive means, while providing superior protection for all metals, rubber, and plastic materials. Even mold and mildew are inhibited from forming on the surface, thus making tropical shipments and storage of electronics in humid climates safer. Intercept is easy to apply, safe and clean to use, recyclable, and protects for short or long term; great for a Green Sustainability Program.
About Liberty Packaging:
The Liberty Packaging Co., Inc., is a woman-owned small business based in Massachusetts. Liberty's principle product line is Intercept Technology Packaging for corrosion and static protection. Liberty provides Intercept Technology products to large and small manufacturing operations, as well as packing and crating suppliers, general distributors, medical and special packaging suppliers.
About Under-Raps
Under-Raps Pty Ltd main office is located at 15 Irvine Drive, Malaga, Western Australia 6090. Under Raps exclusively imports the Corrosion Intercept and Static Intercept ranges of anti-corrosion packaging products into Australia and New Zealand and is highly regarded as a packaging leader within the oil and gas industry in Australia, New Zealand and the Philippines.
Photo credit COMPTrade Technologies.
###