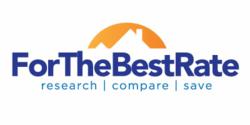 As large numbers of homeowners continue to take advantage of HARP refinancing it's great to see the benefits increased by the availability of extremely low interest rates
Wilmington. NC (PRWEB) December 12, 2012
Mortgage rates were steady this week, moving only slightly above the historic lows reports ForTheBestRate.com, a consumer focused mortgage research website. The pricing advertised in the rate tables on the website also remained low, keeping with market trends. On Friday, December 7th, 2012 30 year fixed mortgage rates were posted as low as 2.875% (APR: 3.048%, Points: 1.625, Fees in APR: $941, Lender: Home Loan Enterprise,) and 15 year fixed mortgage rates as low as 2.500% (APR: 2.560%, Points: 0.000, Fees in APR: $696, Lender: Keystone Financial Services, LLC.) 5 year arm rates were advertised as low as 2.390% (APR: 2.654%, Points: 0.000, Fees in APR: $1553, Lender: Third Federal.)
Mortgage pricing data released Thursday, December 6th, 2012 in the weekly mortgage rate survey from Freddie Mac, a government sponsored enterprise and purchaser of mortgage loans on the secondary market, also revealed that mortgage pricing remains near historic lows. 30 year fixed rates averaged 3.34% (0.7 points) for the week ending December 6th, 2012, up slightly from 3.32% (0.8 points,) the average one week earlier. 15 year mortgage rates also stayed close to record setting levels, moving to 2.67% (0.6 points) on average, after last week's 2.64% (0.6 points) average.
5 year adjustable rate mortgage pricing moved lower, to 2.69% (0.6 points) on average from 2.72% (0.6) the week before.
"As large numbers of homeowners continue to take advantage of HARP refinancing it's great to see the benefits increased by the availability of extremely low interest rates," commented Nat Criss, CEO of ForTheBestRate.com. "Someone who refinances today could still be seeing the rewards of a low payment ten, twenty, or even 30 years from now, even as their equity position improves," he continued.
Current mortgage rates for a number of different residential mortgage programs can be viewed on ForTheBestRate.com. Below is a snapshot of mortgage rates for a variety of products listed on the site on 12/7/2012. Portland, OR mortgage rates represented in this sample. Rates are subject to change. Please visit the site to view the criteria used in the survey.
30 Year Mortgage Rates
Absolute Mortgage - 2.990% Note Rate, 3.134% APR, 0.000 Points, $2998 Fees in APR
Roundpoint Mortgage Company - 3.000% Note Rate, 3.159% APR, 2.000 Points, $0 Fees in APR
15 Year Mortgage Rates
Home Loan Enterprise - 2.500% Note Rate, 2.581% APR, 0.000 Points, $941 Fees in APR
Pleasant Valley Home Mortgage - 2.625% Note Rate, 2.625% APR, 0.000 Points, $0 Fees in APR
10 Year Mortgage Rates
Residential Finance Corporation - 2.250% Note Rate, 2.669% APR, 2.000 Points, $0 Fees in APR
Habitat Financial - 2.500% Note Rate, 2.678% APR, 0.000 Points, $1479 Fees in APR
5 Year Adjustable Rate Mortgage Rates
First Internet Bank - 1.875% Note Rate, 2.000% APR, 2.000 Points, $1428 Fees in APR
EverBank - 2.250% Note Rate, 2.857% APR, 0.000 Points, $855 Fees in APR
About ForTheBestRate.com
ForTheBestRate.com is a website that offers information regarding mortgages, insurance, and personal finance. ForTheBestRate.com is owned by CMG Equities, LLC based in Wilmington, North Carolina.
Circle ForTheBestRate.com on Google +
Follow on Twitter
Like ForTheBestRate.com on Facebook