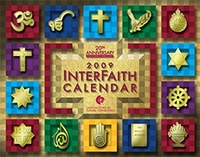 Chicago, IL (PRWEB) April 3, 2009
The Chicago Center for Cultural Connections was established in 1935 in Chicago. Connections is a leading human relations organization dedicated to building bridges of mutual respect among cultural, racial and religious communities. Connections has always stood for promoting common ground; resolving conflict and is a proponent of nonviolence and peace. Connections InterFaith Calendar, now in its 20th year continues to represent the potential of people working together in a spirit of goodwill and without compromising their distinct beliefs. The calendar has reached millions of people around the world and has been a tremendous tool to help people have a better understanding of different faith communities. Connect now at Connections new website at http://www.connections-chicago.org.
Connections continues to need the help and involvement of people of goodwill and common sense. Connect with us in working towards a changed environment, where together we can build mutual respect and understanding; foster nonviolence; value education and its promise; and honor the planet where we live. In working towards that end, Connections recently honored Archbishop Desmond Tutu at an interfaith breakfast. As part of Connections extensive work in education, Archbishop Tutu spoke at our leadership conference for high school and college students. Connections also recognized Harvard Medical School's Dr. Alvin F. Poussaint for his contributions to race relations, nonviolence and parenting education. Connections will soon be announcing a zero-landfill green initiative. This program is designed to keep toxic waste out of the waterways and landfills as well as help individuals in need stay connected.
Since its inception, Connections has remained true to its mission. Throughout its 74 year history, the organization has maintained a consistent focus on bringing people together from different social, economic, religious, ethnic, and cultural backgrounds to advance the larger goals of understanding, cooperation, mutual respect and social justice.
Barbara Abrajano
Executive Director
Chicago Center for Cultural Connections
27 E. Monroe Street, Suite 400
Chicago, IL 60603
312/236-9272
312/236-0029
800/311-9823
http://www.chicago-connections.org
###