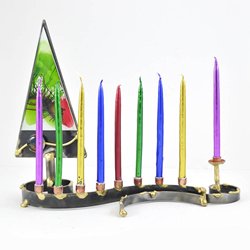 "What began as a fun and creative project turned into what I felt was an untapped need in the holiday gift market."
Pompano Beach, Florida (PRWEB) November 17, 2016
TraditionsJewishGifts.com, Inc., launches a new collection of interfaith gifts. This is a unique year where both Christmas Eve and the first night of Hanukkah align on the same night and are both celebrated on December 24. This is only the 5th time that this has occurred in the last 100 years. TraditionsJewishGifts.com's exclusive collection of "When Holidays Combine" gifts are ideal for those that are looking for a December holiday gift for friends and families that come from different religions and celebrate both Christmas and Hanukkah in their homes.
The new collection of gifts includes Hanukkah Menorahs with Christmas Tree designs and festive multi-colored metallic Hanukkah candles to enhance the holiday look. TraditionsJewishGifts.com's owner, Wendy Gordon, has designed a convertible image of a Christmas Tree that reflects into a Hanukkah Menorah that when flipped is a Hanukkah Menorah that reflects into a Christmas Tree. This exclusive image can be found on coffee mugs, hot chocolate cans, pillar candles, greeting cards, Christmas tree ornaments and more.
The "When Holidays Combine" gift collection has been specially curated by Wendy Gordon. Her inspiration behind the creation of these exclusive gifts was at first the rarity of both the first night of Hanukkah and Christmas Eve falling on the same night After extensive research on the subject, she realized that many families celebrate both holidays and that this was not only a gift idea for 2016, but gifts that interfaith families could enjoy each year when they celebrate the December holidays. Wendy says; "What began as a fun and creative project turned into what I felt was an untapped need in the holiday gift market."
While Wendy understands that many people feel strongly either for or against celebrating both Hanukkah and Christmas together, she feels that it is important for each family to celebrate the holidays as they see fit. She understands that an interfaith holiday celebration is a sensitive topic for many people and says, "It is not for me to judge how people choose to celebrate their holidays." Wendy wishes for religious tolerance and understanding, no matter how people decide to observe their holidays.
About TraditionsJewishGifts.com, Inc
TraditionsJewishGifts.com's website was launched in 2002. It is the online extension of Traditions Judaica Gifts store, located at the Festival Market in South Florida's Pompano Beach. This family owned and operated Jewish gift store is celebrating their 25th year in business. The business was founded on the same Jewish traditions that the Gordon family celebrates with their customers daily. Read more about how this Jewish family found love in the creation of their business.