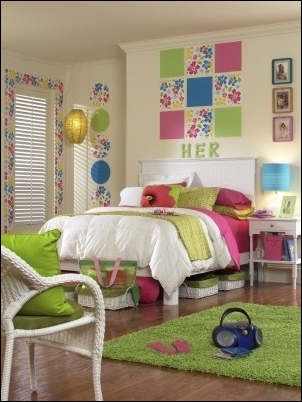 WallPops! is a design solution for every member of the family.
Randolph, MA (PRWEB) December 5, 2006
Brewster Wallcovering Company announces the launch of a new product for interior decorating: WallPops!, a line of peel-and-stick wall art that is repositionable, completely removable and safe for walls. Made of a flexible vinyl material, WallPops! works by simply removing the backing and placing the artwork on the wall. Fun and exciting colors and graphics make up the WallPops!, which come in large 13" dots (Dots) and squares (Blox) and 6 1/4"x 16' continuous rolls (Stripes).
The fun, bright colors, eye-catching designs and be-your-own-decorator aspect of WallPops! appeal to tweens, teens, college students and young adults. Primary and secondary homeowners also enjoy the wall art, effortlessly incorporating bold colors and cool graphics into rooms. Parents are fans of the removable nature of the product and everyone loves the economical price point – $9.96 per package of five Dots or Blox and $9.96 per roll of Stripes. All of the design formats (Dots, Blox and Stripes) can be cut to any shape to create additional design effects.
Interior decorating with WallPops! can be simple or elaborate; the outcome is in the hands of the user. For example, Stripes can be used to outline a window or to line an entire wall from floor to ceiling. The same goes for Dots and Blox, with users creating their own combinations of colors and designs. Users can rotate Blox so it's a diamond instead of a square and create large-scale geometric patterns, such as an alternating black and white Deco-esque design. Or decorators can give new meaning to the term "wallflower" by fashioning oversized and sweet whimsical flowers. The design options are limitless.
"WallPops! is a design solution for every member of the family." said Paula Berberian, Creative Services Manager for Brewster. "It provides a fun and creative, do-it-yourself element for people with a relatively low level of commitment due to its attractive price point and the fact that the artwork is repositionable and removable. The Dots, Blox and Stripes can also be cut to any desired shape to create an endless number of designs for walls."
The 12 fabulous solid colors are:
Totally Orange – deep, rich orange
Lello Yellow – delicious lemon yellow
Sizzlin' – strong bold red, with depth
Flirt – the perfect shade of pink – not too pale or hot
Purple Perk – lavender at its best
Oh Pear – soft yellow-green
Electric Blue – saturated and highly charged blue
Stylin' Green – chartreuse mixed with yellow
Way Cool Blue – tranquil, sky blue
Shh! – deep dark blue
Ghost – crisp white
Black Jack – what else? Black!
There are four designs in the WallPops! collection and each are featured in two colorways that are also available in the large 13" Dots and Blox and the continuous roll of Stripes. They are:
Lots of Dots™ – multi-colored polka dots
Go Retro™ – a geometric pattern
Ribbon Candy™ – a combination of thin and bold stripes
Island Fusion™ – tropical flowers
WallPops! is available at Lowe's nationwide or by calling Brewster Wallcovering Company at 800-366-1700 for additional retailers. For more information, visit http://www.wall-pops.com.
About Brewster Wallcovering Company
WallPops! wall art is manufactured by Brewster Wallcovering Company based in Randolph, Mass. Established in 1954, Brewster is a family-owned and -operated, fourth generation company. Brewster distributes throughout the U.S. and has distribution facilities in Canada, the United Kingdom and China. A category leader in interior decorating, it offers seven additional brands and more than 10,000 wallpaper and border choices.
Contacts:
Erin Brady
erinb @ lhammond.com
212-891-0216
Sarah Fletcher
sarahf @ lhammond.com
212-891-0220
Lou Hammond & Associates
###