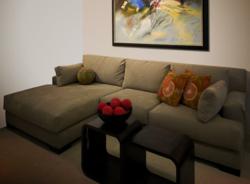 Knowing how much time our customers spend with family and friends in their homes, we want to make sure the sofa they buy today is the perfect fit for years to come.
San Francisco, CA (Vocus/PRWEB) January 28, 2011
According to a recent report by A.C. Nielsen, the average American watched 31.5 hours of television per week in 2010. Even those who don't consider themselves to be couch potatoes log plenty of sofa time. All of that TV time requires a proportional amount of sofa time.
Sofas are also one of the most expensive pieces of furniture in the home, so it makes sense to have some guidelines when buying "the perfect sofa." Courtney Jones, co-owner & designer of Kohler Jones custom furniture in San Francisco, say the four Fs in sofa design are: form, frame, fabric, and fill.
Form
The general function, how the sofa will be used most often, design preferences, and available floor space help determine the ideal sofa form. An L-shaped sectional allows two adults to comfortably stretch out, while a curved settee is ideal for conversation. Pay attention to details like the height and style of the arm rests, back height and number of cushions, as they all affect the comfort and style of the sofa.
Frame
The "bones" of a sofa, the frame, is the primary determinant in overall quality and durability. Kiln-dried hardwoods such as alder, maple, and oak are much sturdier than soft woods like pine and air-dried woods. Construction is also important. Sofas constructed with screws, dowels, and joints will last much longer than those that are stapled or glued together.
Fabric
A sofa is one of the largest pieces of furniture in a living room, so the fabric choice greatly influences the overall design and mood of the room. While many choose a neutral fabric for their sofa, and change its look with a variety of pillows, others see it as an opportunity to create a room anchor and choose a bold or unique fabric.
It's easy to become overwhelmed with the endless options from leather and micro suede to plush velvets and chenille, not to mention the countless textures and patterns. A professional interior designer can help people choose a fabric that is durable and that they not only love today—but can live with for years to come.
Fill
Goose-down-wrapped cushions are luxurious, but they require plumping and some people are allergic to down. Other options include foam core surrounded by Dacron and eco options like soy, latex, organic cotton, and wool batting.
"Most customers who come into Kohler Jones looking for the perfect sofa already have other pieces that must be considered in the room," says Jones. "We get to know our customers well, often even going to their homes to get a feel for their style preferences and what they already own. Sometimes, we find a high-quality sofa that simply needs custom upholstery to make the owners fall back in love."
Most of the time, however, clients want to refresh the look and pull the room together. "This is where it helps to have an extensive knowledge of all the available options and to know where to invest, and where it's okay to cut back," says Jones. "Knowing how much time our customers spend with family and friends in their homes, we want to make sure the sofa they buy today is the perfect fit for years to come."
For more information about sofa design considerations or any of Kohler Jones' products and services, call (415) 315-9200, view them on the web at http://www.kohlerjones.com, or visit their store located at 1747 Church Street in San Francisco.
About Kohler Jones Custom Furniture & Interior Design San Francisco
Kohler Jones Custom Furniture in San Francisco showcases sophisticated furniture, rugs, accessories and wall coverings and also offers interior design services. Co-owners Craig Kohler and Courtney Jones create a shopping experience that offers more personalized service than the big stores, and none of the intimidation of the traditional interior design process. Kohler Jones wants to make furnishing and decorating the home an enjoyable process. They help customers find furniture and accessories that fit their personal style.
# # #