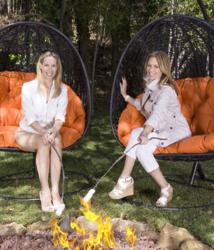 Rancho Santa Margarita, CA (PRWEB) June 09, 2012
Design Camp is a two-day seminar hosted and instructed by Celebrity Interior Designers Lori Dennis and Kelli Ellis, with special guests segments led by local and national industry experts in niche fields. The event includes interior design instruction, best business practices, and cocktail socials.
The course is tailored for design professionals and design aficionados. Each day runs from 9AM-6PM and is broken down into 8 segments per day. By the end of the course, students will have the confidence and ability to run successful, magazine ready interior projects, take their careers to an entirely new level and a certificate of completion. Design Camps are offered in cities across North America. The first camp will be held in Austin, Texas on October 24-26, 2012.
Internationally known from their appearances on HGTV, Bravo, NBC, Oxygen, TLC and Food Network, and articles in countless publications, Lori and Kelli have spent decades educating designers and design enthusiasts. Additionally Lori and Kelli are authors, brand ambassadors, furniture and product designers, public speakers, a sustainability expert, a design psychology expert and mentors to the design community.
Lori and Kelli's secrets are the key ingredients to creating a play book with eye opening insight of how the successful designer looks and how a thriving interior business works today.
"Each day of Design Camp provides campers with the opportunity to learn and network with the most respected professionals in the interior design business. The curriculum at Design Camp is on par with course work from any top interior design school. The biggest differences being, a student can graduate in a few days, invest a lot less money and have much, much more fun!", say co-founders Kelli and Lori.
The complete camp package costs $1,297 and includes a Wednesday night red carpet, kick off Cocktail Party, introducing the hosts, sponsors and speakers. Bright and early on Thursday morning an intense, educational journey begins with learning the foundation building fundamentals of the design process and gaining the confidence to complete any project with immense satisfaction. Friday's schedules forges ahead with the building of relationships, continuing with how to acquire an envied resource library comprised of A-list companies and the day progresses with invaluable topics about managing and marketing your projects and your brand.
Design Camp is based in Southern California and served the design community across America. Their motto: Learn. Connect. Design. For more information about their live events and online training, visit http://www.designcamp.com.