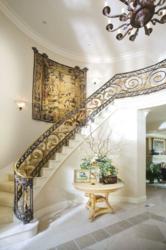 It is rewarding to see a plan take shape and know that you have helped someone create their dream home or office
Los Gatos, CA (Vocus/PRWEB) May 10, 2011
Janice McCabe, owner of Los Gatos interior design firm Janice McCabe Interior Design, is an expert on all things interior design, and this is evidenced by the fact that her business has been thriving since 1986. Janice is celebrating 25 years in business by welcoming prospective clients and all interested parties to her studio for a meet-and-greet. The open studio will be held on May 12, 2011, from 4:00 p.m. to 7:00 p.m. at 344 Village Lane in Los Gatos.
Refreshments will be provided and her recently completed projects will be showcased in an intimate environment. Janice has just finished projects which include updating several areas at the Silver Creek Valley Country Club in San Jose and a historical building in Los Gatos, along with notable residential homes, and is excited to share the results with visitors.
"It is rewarding to see a plan take shape and know that you have helped someone create their dream home or office," says Janice, "A room that I design evolves from my client's personality and keeps in mind the function of each space. A room can develop from unique pieces that create an opulence, or from little whimsy that expresses a client's humor."
For more information about the May 12th open house or any of Janice McCabe Interior Design's services, call them at (408) 426-8708 or visit them on the web at http://www.janicemccabe.com.
About Janice McCabe Interior Design
Janice McCabe Interior Design is the premiere interior design firm in the South Bay specializing in residential projects, commercial projects and professional [home remodeling. Serving clients throughout Los Gatos, Saratoga, Hillsborough, Los Altos, Willow Glen, Atherton and San Jose, the work of Janice McCabe is about long-term design value and designing rooms evolving from her clients' personalities.
Janice McCabe has over 25 years of interior design experience with residential and commercial projects. With extensive training and a prolific interior design career, Janice's unique style has brought many satisfied high-end clientele throughout the years. Her work speaks for itself and her impressive client portfolio can be seen on her website.
###