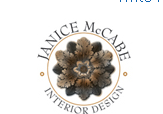 While you are at our website, please send us an e-mail to be included on our mailing list
Los Gatos, CA (PRWEB) January 19, 2012
Los Gatos' interior designer, Janice McCabe Interior Design is thrilled to celebrate 25 years at the same downtown location.
Janice McCabe Interior Design has been located in Los Gatos since 1986. McCabe has more than 25 years of interior design experience in residential and commercial projects, with educational training and the start of a prolific interior design career culminating in Chicago. Expanding its service, the company recently added "Build" to the company name, making it Janice McCabe Interior Design Build. As a licensed contractor with 25 years of experience, Janice McCabe handles all design and remodel needs for homes and businesses. Projects range from updating a room to remodeling whole homes or businesses, and its clients include medical and professional offices, country clubs, boutique hotels, residential homes, and retail establishments.
View Janice McCabe Interior Design Build's online portfolio at http://www.JaniceMcCabe.com. The portfolio showcases pictures of upscale homes in the U.S., including new homes and remodel projects from the East Coast to Hawaii.
"While you are at our website, please send us an e-mail to be included on our mailing list. We will feature a promotion mid-year to celebrate," McCabe said.
McCabe's design philosophy helps clients develop their own style through her adept understanding of color, form, space, light and texture. A client's personality is always taken into consideration when designing a room, although the functionality of space is kept in mind. She incorporates pieces from her travels throughout Europe and her clients' travels to add that special quality of interest or "conversation pieces."
McCabe believes in long-term design value, which is achieved by selecting quality pieces through timeless design. Janice McCabe believes in creating beautiful rooms that reflect the client, without sacrificing comfort or function.
For more information about Janice McCabe Interior Design, call 408-369-9919 or view the design company on the web at http://www.janicemccabe.com. Janice McCabe Interior Design is located at 344 Village Lane in Los Gatos.
About Janice McCabe Interior Design
Janice McCabe Interior Design is the premier interior design firm in the South Bay that specializes in residential projects, commercial projects and professional home remodeling. Serving clients throughout Los Gatos, Saratoga, Hillsborough, Los Altos, Willow Glen, Atherton and San Jose, the work of Janice McCabe is about long-term design value and designing rooms that evolve from her clients' personalities.
###