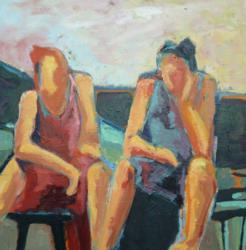 Fine art is one of the most personal things you can use in decorating your home yet many people get paralyzed by the process or feel they don't know enough.
San Francisco, CA (Vocus/PRWEB) February 18, 2011
Kohler Jones adds a new and colorful dimension to its Noe Valley showroom walls: fine art by Bay Area artists to complement the custom furniture. Co-owner Courtney Jones knows that art can help transform a room, but also knows many people find shopping for and buying fine art an intimidating process. By featuring the works of Bay Area artists among her room vignettes in the Kohler Jones showroom, clients can see the impact art makes within a room environment.
"Fine art is one of the most personal things you can use in decorating your home," says Jones, "yet many people get paralyzed by the process or feel they don't know enough. Just as artists trust their instincts in creating their work, homeowners need to trust their instincts in choosing art they're attracted to and that speaks to them. Of course, it helps to see art, particularly large-scale pieces, in a room setting instead of on a gallery wall amidst other paintings."
In March, the featured artist will be Gail Ragains (http://www.gailragains.com), a painter who was raised in San Francisco and currently lives in Redwood City. She compares her process in creating bold and expressive canvases to jazz improvisation. Having a dance, competitive sports and massage therapist background gives her an intuitive feel for the human form, which is clearly seen in her series of figures, but she also paints landscapes and abstracts.
"Two of the things that draw me to Gail's paintings," says Courtney, "are the rich hues and comforting qualities evoked when looking at her work. As an interior designer, I'm always looking for ways to add drama and elegance to a room, and these paintings definitely do that, while working with many styles and colors of furniture."
"From abstract to expressionistic, I like to push the envelope with bold, gestural brushstrokes and compelling colors," says Ragains. "Whether I'm painting the figure, landscape or still life, I look for abstract shapes, stripping away the non essentials to give a loose interpretation of form and movement, a strong interpretation of feeling and expression."
In December, Kohler Jones featured the bright and richly-textured canvases of W.M. Vinci (http://www.wmvinci.com), an artist from Emerald Hills, California. Several of his paintings still hang at Kohler Jones, adding to the constantly changing vignettes of custom furniture.
"Vinci's paintings are more vibrant and modern than Gail's," adds Jones, "and give off a different energy. It's interesting to see them both in the showroom and discover the impact art can have on your mood. Vinci's brilliant colors give me lots of energy, and Gail's more muted tones create a relaxing vibe. It's fun to see which art different clients are attracted to, and to help them realize that art isn't a luxury; it's something we should all have in our daily lives. By featuring local artists, I'm extending the idea of interior design beyond furniture and drapes to include custom artwork by people who could be your neighbor."
For more information about Kohler Jones' local artwork or any of Kohler Jones' products and services, call (415) 315-9200, view them on the web at http://www.kohlerjones.com, or visit their store located at 1747 Church Street in San Francisco.
About Kohler Jones Custom Furniture & Interior Design San Francisco
Kohler Jones, in San Francisco's Noe Valley neighborhood, showcases sophisticated furniture, rugs, accessories and wall coverings and also offers interior design services. Co-owners Craig Kohler and Courtney Jones create a shopping experience that offers more personalized service than the big stores, and none of the intimidation of the traditional interior design process. Kohler Jones wants to make furnishing and decorating your home a process to be enjoyed, and help customers find furniture and accessories that fit their personal style.
###