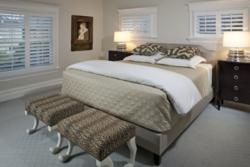 I love the Bohemian, Brooklyn vibe in all its rustic yet urban eclecticism. There is something about bringing in a 'retro' or vintage aspect into my designs that adds layered character to a space.
San Francisco, CA (Vocus/PRWEB) February 22, 2011
Lisa Bakamis, senior designer at Green Couch Interior Design in San Francisco, loathes the overuse of the word "hipster." However, the cultural reference conveyed by the term in a physical form is definitely an inspiration point for her design aesthetic. The innovative and energetic designer, who joined Green Couch in 2009, discusses her starting points for her popular retro-, vintage-, and yes, hipster-inspired designs.
"I love the Bohemian, Brooklyn vibe in all its rustic yet urban eclecticism," she muses. "There is something about bringing in a 'retro' or vintage aspect into my designs that adds layered character to a space."
Lisa shares few pieces of inspiration that she says ground her in a space and get the creative juices flowing, and provide her clients with Green Couch flair:
1. Start with fabric. "I'm obsessed with fabric," says Lisa, while sitting in front of eight overflowing storage boxes of every imaginable textile. "I designed my entire house around a pair of Chiang Mai Dragon pillows by F. Schumacher. The vintage-y Asian-inspired linen fabric has bold colors expressed with a modern feel of vibrancy. I also love mixing modern patterns with a more traditional pattern for extra character and heritage."
2. Be bold. Paint in unexpected hues and areas. Use a dark charcoal in the living room or delight with a vibrant color in an unexpected place. "One of our clients was particularly thrilled with the burnt orange that we recently painted on the ceiling of his office," she says.
3. Change the space, not the place. "Sometimes we get bored of the spaces where we live, so we consider moving. By changing the way you look at things, you can add a new perspective. Move your furniture around a bit or add a new pillow or accent piece for inspiration." Lisa's trick was to paint a pair of oversized speakers in her own living room with red lacquer to give a hideaway piece some star quality.
4. Be artistic. Bring in a colorful art piece. It doesn't have to be overwhelming, large or expensive to hold a room. Wander through vintage shops and keep an open mind to the possibilities that a French-inspired piece or abstract may have. Additionally, personalized black and white or sepia tone photography can add a personal touch. Using old eclectic frames from a flea market to mix and match shapes, sizes and frame style is an inexpensive method to achieving innovative artistry.
5. Think Fashionably. Fashion can offer inspiration to interior design. Pinstripes are dapper on gentlemen, and also surprisingly well "suited" to the dining room wall.
Lisa joined Green Couch during the summer of 2009 and has accelerated the team's ability to service a larger variety of interior design clients. Her vast experience with design showrooms and trade resources, organization and interaction with clientele has greatly enabled the company to meet additional demand for their approachable and lively design services.
For more information about Lisa's design approach or any other services offered by Green Couch, call them at (415) 867-7664 or visit their website at http://www.greencouch.com.
About Green Couch
Green Couch Interior Design was launched by San Francisco interior decorators Jeff and Tray Schlarb in 2002. Jeff and Tray's intrinsic understanding of San Francisco home remodeling and Bay Area lifestyles has been gained through their combined years of interior design. The team is comprised of talented individuals who work together to create sophisticated, relaxing and inspiring interiors. Quality is not just a major tenet of their craft, but a measure of the company's daily pursuit. An appreciation for clients, family, friends and the work itself propels them to reach higher, work harder and respect each other.
###