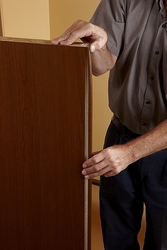 Muskego, WI (PRWEB) November 2, 2010
InPro Corporation and Eggers Industries, eiDOORS™, announce the development of a newly redesigned replaceable door edge that makes repairs a great deal easier. The vinyl door edge can be replaced without removing the door from the frame. Changeouts can be done in five minutes or less. A redesigned replaceable stainless steel door edge is also available.
Unlike competitors' designs, the removable door edge is designed to fit behind a standard doorstop, making the edge visible on only one side when the door is closed.
The partnership between Eggers Industries and InPro Corporation to form eiDOORS in 2008 originally focused on saving facilities the cost and time associated with interior door repair and replacement. By cladding interior doors in InPro's durable rigid vinyl sheet, eiDOORS are an easy to clean, scratch and stain resistant alternative to commonly used wood doors. While the vinyl cladding provides high impact door protection, the new interior door edge, which receives the most impact and damage from carts, gurneys and other equipment, is a massive enhancement to interior door design. It eliminates repairing door edge damage with heavy sanding, which changes the door's profile, or complete replacement if the damage is too severe.
In addition, architects and facilities can make any eiDOORS product greener. Choosing a quality Eggers Agrifiber or Forest Stewardship Council certified wood door clad with InPro's non-PVC sheet material may contribute LEED® credits to a building project. This includes the company's latest innovation: BioPolyPETG+, which combines a biopolymer, PETG and recycled content. All InPro cladding materials are GREENGUARD® certified for indoor air quality, and also hold the GREENGUARD Children and Schools seal.
To view a video on the eiDOORS new replaceable edge, visit http://bit.ly/interior-doors.
BACKGROUND
InPro Corporation – Based in Muskego, Wisconsin, InPro is the nation's premier manufacturer of building products, offering the most choices and best service in door and wall protection, decorative surfaces, expansion joint systems, cubicle track & privacy curtains and signage & wayfinding. InPro products are used in the healthcare, senior living, hospitality, education, government, marine and retail sectors.
InPro Corporation also operates an exclusive Color and Design Center that employs a professional, licensed interior designer who assists customers in coordinating InPro products and custom environments that integrate color, style, function, comfort and life safety.
For more information on InPro Corporation, visit http://www.inprocorp.com, or call 800-222-5556.
Eggers Industries – With three divisions in Northeast Wisconsin, Eggers Industries manufactures architectural flush doors, true stile and rail doors, door frames, veneered plywood panels and custom components for premiere commercial projects.
Special applications include bullet-resistant, fire-rated and acoustical doors, and FSC certified products that contribute points to the Leadership in Environmental and Energy Design (LEED) program. Eggers meets AWI, WI and WDMA wood product standards.
In total, Eggers' facilities in Two Rivers and Neenah, Wisconsin have more than 650,000 square feet of manufacturing space and nearly 500 employees.
For more information on Eggers Industries, visit http://www.eggersindustries.com, call 920-722-6444, or e-mail sales(at)eggersindustries(dot)com.
###