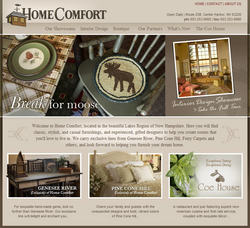 Rumney, NH (PRWEB) July 15, 2008
Home Comfort, the Lakes Region's premier resource for interior design, unique home furnishings and accessories, and more is opening a new location in Bedford this summer, at 384 Route 101, next door to Granite State Cabinetry.
The new location will showcase Home Comfort's design team, and, in its over 7000 square feet, unique lines of classic, stylish and casual furnishings, artwork, area rugs, fabric, bedding, lamps, window treatments, accessories, and everything you need to make your house a home.
Owner Luke Dupuis, who opened his first store in Center Harbor, NH in 1997, says, "The Bedford market is home to savvy, vibrant individuals seeking something different and original when it comes to furnishing their homes. We feel confident that our distinct lines of furniture and accessories, paired with our commitment to superior service, are just what the Bedford area is looking for. We've always done things a little bit differently, and we think it shows as soon as you walk in our doors."
Home Comfort offers full interior design service, whether the homeowners desires the services of the company's professional, award-winning design team, or simply the perfect final touch to a room that's almost finished.
Interested in taking virtual tours of the Center Harbor locations, taking a look at some portfolios, getting on the mailing list, or just learning more? Visit the website at http://www.homecomfortnh.com.
###