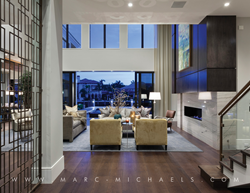 701 Sanctuary Drive in Boca Raton, FL, mixes clean-lined Georgian-inspired architecture with chic modern interiors
Winter Park, FL (PRWEB) July 23, 2015
A brand new construction, waterfront home that looks onto a peaceful nature preserve is now ready for its first owner! Designed by Marc-Michaels Interior Design, Inc. and built by Bloomfield Construction, this 7,709-square-foot home has a modified Georgian-style architecture. Architecture by Affiniti Architects.
701 Sanctuary Drive in Boca Raton, FL, mixes clean-lined Georgian-inspired architecture with chic modern interiors. Throughout the main level of this home, transparent walls of retractable glass doors showcase the gorgeous waterfront view and truly give meaning to indoor-outdoor living.
Geometric architectural detailing blends with supple fabrics and reflective surfaces resulting in a clean, relaxed ambiance. The color palette echoes the surrounding natural environment mixed with radiant metallic bronzes and golds to add a layered glamourous aesthetic.
This residence was designed by Michael Duval, Lindsey Snyder, Tina Gaines, Molly Walker and Mike Cohen of Marc-Michaels Interior Design, Inc. The design team focused on a fresh, crisp color palette preferring to focus on contrast with rich woods using a limited collection of luxurious finishes resulting in a quiet sophisticated atmosphere. Furnishings were influenced by luxe hotels around the world with an emphasis on a collected elegant feel. Overall merchandising was emphasized by singular organic moments using reclaimed woods, animal hides and ocean elements. The collection of artwork includes a spectrum of abstract impact moments and oversized pieces infusing each room with added color.
For more information on viewing or purchasing 701 Sanctuary Drive in Boca Raton, please contact Premier Estate Properties.
Focusing on interior detailing, strong finish selections and hand-selected furnishings, Marc-Michaels' signature look translates to all types of projects; private residences, model merchandising, condominiums, motor coaches, jets and mega yacht interiors. For more information visit, http://www.marc-michaels.com.