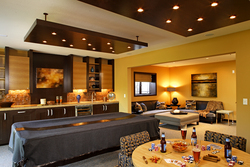 New and existing clients will enjoy LiLu Interior's collaborative and thoughtful approach to design
Minneapolis, MN (PRWEB) September 29, 2008
A lifelong passion for interior design has led 20-year industry veteran Lisa Peck to launch her own firm - LiLu Interiors. With her new company, she strives to offer something different. Peck and her close-knit team of experienced design professionals are committed to providing a high-caliber boutique experience.
"When someone hires an interior designer, they likely are taking action on a project they have been dreaming about for some time," Peck, owner and principal designer, explained. "We don't take this ownership away from our clients by dictating design. Instead we engage them throughout the process so the experience is enjoyable for everyone involved."
Peck earned a Bachelor of Fine Arts Degree in Interior Design from Iowa State University in 1987. Four years later she passed the National Council for Interior Design Qualifications board exam, earning an American Society of Interior Designers (ASID) designation. In 1995, she helped found Pisa Design, an award-winning firm in St. Louis Park, Minn., and served as partner until 2008. Peck has earned several industry awards for design excellence during her 20-year career. In 2007 she placed first in three Minnesota Chapter ASID Top Design award categories: Residential Kitchen, Residential Multiple Rooms and Residential Bath. Joining Peck at LiLu Interiors are designers LuAnne Silvia, ASID, and Emily Anderson, Allied Member ASID.
"New and existing clients will enjoy LiLu Interior's collaborative and thoughtful approach to design," said Peck. "Together we will uncover fresh solutions that uniquely reflect their passion for life."
About LiLu Interiors: LiLu Interiors, a high-end interior design boutique based in Minneapolis, is dedicated to providing fresh solutions through a thoughtful design approach. Holistic by design, LiLu Interiors offers custom design, project management, space planning and construction oversight services to remodeling and new construction projects for homes nationwide.
Clients at LiLu can expect a different kind of experience. The kind of different that places your dreams first. That accounts for every detail during the course of each interior design project. That engages your involvement throughout and your delight from within. And yes, a kind of different that would allow us to recommend what is right for you.
For more information, visit http://www.liluinteriors.com.
###