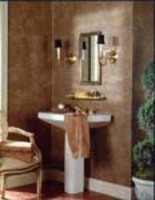 Sandusky, OH (PRWEB) September 3, 2008
USA Wallpaper has recently added Paper Illusions to their already wide collection of wallpaper products. Paper Illusions, manufactured by Village Wallcoverings, is a new yet well-known brand of wall covering with tasteful faux finish details. The addition of Paper Illusions to USA Wallpaper's select brands gives customers another great choice when giving their walls a good faux finish look.
Faux finishing is increasingly becoming a huge craze in interior designing and decoration. It creates artistic finishes that mimic marble, wood, leather, granite, stone, and more. The usual route with faux finish designs is paint, but it can be messy, complicated and toxic. Moreover, wallpaper lasts longer than paint. Yet, regular wallpaper installation is just the same - it is time consuming and can end up in disarray.
The new designer wallpaper from Paper Illusions offers an easy alternative with its easy installation process. One can simply tear a strip of Paper Illusions interior wallpaper from its roll, dip it in warm water, and apply it directly to any dry flat surface. Any wall can instantly have a stylish, faux finish look and any room can get a quick and affordable makeover. Moreover, regular faux finish wallpaper requires wall liner to smooth out the surface, but with Paper Illusions, uneven, cracked or damaged walls are not a problem. Lines, grooves and other imperfections can be covered by overlapping pieces of the faux finish wallpaper provided they are ¼" or less in width. This simple process gives any wall the textured, elegant effect of a faux finish.
The simple tear-dip-apply installation of Paper Illusions products also eliminates the health hazards that come with decorative faux finishing techniques which can be acquired from exposure to and inhalation of paint chemicals. Plus, the removal of the faux wall covering is just as easy as hanging them. The interior wallpaper can simply be peeled off the wall without using any chemical removers. A simple water spray is enough to soften the wallpaper's adhesive hold and one can just easily remove them by hand.
Aside from walls, Paper Illusions designer wallpaper can be used to decorate home furnishings, fixtures, cabinets, kitchen counters, doors and floors. It is durable and washable, too.
Paper Illusions faux wallpaper comes in a range of shades and faux finish effects like marbleized stone in French Vanilla or Terracotta, Florentine marble in Earth or Stone, or script illusions in Cobalt Blue or Tuscan Red.
About USA Wallpaper
USA Wallpaper distributes select wallpaper brands and borders, plus home ornaments, bed, bath and kitchen accessories, nursery décor, clothing and gift sets, and other home accents. Paper Illusions faux finish wallpaper can now be purchased from USA Wallpaper's official website, http://www.usawallpaper.com.
About Village Wallcoverings' Paper Illusions
Paper Illusions is the newest wallpaper by Village Wallcoverings. The faux finish wallpaper comes in 31 shades and finishes, and sold as 85 square foot bolts. More information about the stylish faux interior wallpaper can be found in: http://www.usawallpaper.com/inin.html, http://www.usawallpaper.com/papilbyvilwa.html, http://www.wallpaperillusions.com/, and http://www.paperitfun.com/photo-gallery.html.
# # #