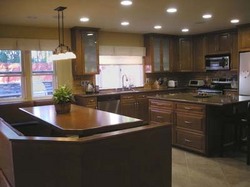 We're overwhelmingly excited about reaching this four-year milestone and using it to share and create beautiful new solutions for interior design in California
Long Beach, CA (PRWEB) October 7, 2008
The world of high-end interior design has been revealed in great detail to mainstream audiences in recent years, helped along by the popularity of television reality shows like Bravo's Top Design, HGTV's Design Star and TLC's Trading Spaces. The expanded appreciation of thoughtful interior design has been a boon for firms specializing in interior design in California such as the Long Beach-based Designs For You, which has thrived since its startup in 2004. Designs For You is now celebrating its 4th anniversary by offering better deals to its customers and new perspectives on the transformation of home and office interiors.
Since the company started creating buzz with its custom home designs, its range of services has expanded to meet the increasingly diverse needs of Southern California homeowners and business owners. Instead of specializing in a defined range of house remodel and interior design disciplines, Design For You now offers comprehensive design expertise that includes evaluating and selecting custom builders for unique and challenging fixtures and installations.
"We're overwhelmingly excited about reaching this four-year milestone and using it to share and create beautiful new solutions for interior design in California," explains Patty Spielberg, owner of Designs For You.
Designs For You has also negotiated discounted rates with several of its most fashionable and in-demand vendors and suppliers. Spielberg says she's eager to leverage these discounts as a means of giving her clients the looks they want without sacrificing quality or exceeding budget limitations.
"We're all about customer service and the customer's experience," says Spielberg. "The changes we've made have been engineered to enhance the customer's experience so that they'll come back again and again, and recommend us to their family and friends."
Spielberg has specialized in the design of bathrooms, kitchens and window treatments and places an emphasis on the thoughtful selection of flooring, light fixtures and interior colors. She has more than 18 years of interior design experience and a Bachelors of Science in Design from the University of California-Davis.
To learn more about the custom home designs offered by Designs For You and to see their before-and-after interior design pictures, please visit designsforyou.us.
About Designs For You:
Design For You is a full service interior design firm specializing in custom home designs, office interiors and commercial property interior design. Available services include creating custom design concepts, selection of interior finishes, paints and material colors, furniture selection, custom home office design, bedroom interior design and professional decorating. In 2008, Designs For You celebrated its fourth anniversary of providing superior interior design in California.
###