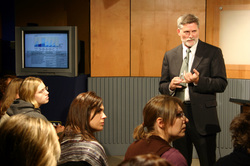 This is just the beginning
Mendota Heights, MN (Vocus) December 2, 2008
Brown College's School of Design hosted the second event in its fall speaker series--the Global Creative Forum--on November 21, 2008. Architect and Designer Crandon Gustafson discussed sustainability in design and the critical details of the United States Green Building Counsels LEED (Leadership in Energy and Environmental Design) building certification. In keeping with the discussion topic of 'going green', Brown College invited the public to attend the event virtually.
The lecture was held in Brown College's on-site television studio and, unlike some virtual meetings, had a live audience of design students and faculty. Over 40 guests attended the event live and online. Justin Wilwerding, Interior Design Program Chair, said "the topic of sustainable design and LEED certification, specifically, is one that even seasoned designers have lots of questions about. This event was a great opportunity for students, academia, and the design community to work together to explore issues and begin to develop viable design solutions." Participants in the online community were able to ask questions of Gustafson in real-time through a moderator. The online community included participants from LoftLife Magazine, Dunwoody College of Technology, and international design firm Leo A. Daly.
Gustafson was Department Chair for Interior Design at Harrington College of Design from 2005 to 2007, and now serves as Harrington's Director of the Center for Professional Development overseeing employment assistance, continuing education and international studies at the College. Gustafson played a significant role in assisting Harrington's Vice-President of Academics Susan Kirkman in the creation of two master's degree programs in interior design. The programs are now approved by IBHE and ACICS. Gustafson is President-elect of IIDA-Illinois, a LEED-Accredited Professional and has specialized in the K-12 market, directing the Managing Architect team for Chicago Public Schools for Renovation and new Construction. He holds a Master of Architecture degree from the University of Colorado-Denver, a Bachelor of Science from the University of Wisconsin-Green Bay, and numerous design credentials, including AIA, IIDA, ASID, LEED and AP.
"This is just the beginning," said Dr. William Cowan, President of Brown College. "We are working diligently to close the gap between our students as part of the learning community and the professional community. Providing a synchronous and asynchronous forum for professionals, educators, students, and design enthusiasts to share ideas, lessons learned and best practices enhances the learning experience and enrich the profession as whole." This particular event was developed as a partnership between Harrington College of Design in Chicago and Brown College's School of Design.
The full event is available online for viewing at https://breeze.careered.com/p99648883/?session=breezzo25he72a9ryrnav.
About Harrington College of Design
Harrington College of Design is a four-year college that offers flexible scheduling for a Bachelor of Fine Arts degree in Interior Design, an Associate of Applied Science degree in Interior Design or Digital Photography and a new Bachelor of Fine Arts degree in Communication Design. Harrington is committed to creating the next generation of design professionals to lead and serve the global community.
Harrington has been a member of Chicago's design and higher education communities since 1931. Located at 200 W. Madison St., Harrington seeks to foster an environment that maximizes students' intellectual and artistic potential. The majority of the faculty is practicing interior designers, architects, photographers and fine art professionals.
Harrington is accredited by the Accrediting Council for Independent Colleges and Schools to award associate degrees and bachelor's degrees. Harrington is recognized as a private college by the Illinois Board of Higher Education (IBHE), and is authorized by the IBHE to confer baccalaureate and associate degrees. The Interior Design Program leading to the Bachelor of Fine Arts degree is accredited by the Council for Interior Design Accreditation (formerly FIDER). Harrington College of Design recently received re-accreditation from the Council for Interior Design Accreditation for a period of 6 years.
About Brown College
Brown has long history of success in training and graduating students in the technology, design, and broadcasting fields for more than 60 years. Brown College offers degree programs in criminal justice, broadcasting, business management, design, and technology. Founded in 1946, Brown College provides students with the knowledge, technical skills and hands-on training needed to succeed in fields such as network and software development, game design and development, graphic design, radio broadcasting, television production, digital media, criminal justice, interior design, and business management. Brown College is accredited by the Accrediting Commission of Career Schools and Colleges of Technology (ACCSCT). For more information visit http://www.browncollege.edu
###