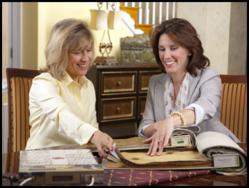 I could never have achieved this wonderful look on my own, and I avoided some potentially very costly mistakes. Thanks, Decorating Den! Betty/Estero
Bonita Springs, FL (PRWEB) November 08, 2011
Once considered a luxury, decorating services are more of a necessity for today's busy homeowners who simply can't afford to make costly mistakes, or run all around town trying to 'pull it together' from retail stores, or worse—the Internet. The experts at Decorating Den Interiors, the largest decorating service in North America, offer this pertinent advice to homeowners seeking professional guidance in their home decor'.
The best professional to decorate your home will most likely come from a combination of compatible personalities and tastes. Remember that you will be working together for several weeks, if not months. During your initial consultation, ask to review the (online?) portfolio of the designer or decorator to assure yourself that (s)he is capable of working in diverse styles, and that your personalities are fairly compatible.
Working with a professional should be an enjoyable experience. Since interior decorating projects are highly personal and collaborative, the final results are always much more successful when the lines of communication are open and ideas are freely discussed. Be candid with your designer regarding such important elements as priorities, timing, budgets and tastes. If a style, color or home furnishings suggestion is one that you do not care for, feel free to say so early on, and provide a new direction for your team.
To ensure that you get off to the right start and to also get the results you are looking for, keep in mind the following tips:
--Be a keen observer. Consciously make note of what catches your interest as you peruse decorating magazines and the internet for interesting rooms and makeovers. Start a file of colors, patterns and designs that appeal to you. You may notice a chandelier, mirror, color combination or window treatment that you like. Once you clip and track these for a brief period, you will be better able to draw a conclusion as to your personal style and convey that to your new decorating professional. It's really all about communication, once you've decided with whom to work.
--Take an honest inventory of your existing décor to determine which pieces you want to keep. Assess your furnishings the way you periodically review your wardrobe. Plan to keep the pieces you truly love and put all others on the 'to-be-replaced-eventually' list.
--Based upon your initial consultation, your designer should present you with fabric samples, sketches and pictures for your evaluation. Since professionals have access to a world of options unavailable in retail stores, be reasonable about asking to see more and more of everything available. Remember that the first two or three designs you are shown will be, in the decorator's opinion, the best looks for your home and your taste. One of the most important services a professional provides is sparing you the confusion of the unlimited choices available. Trust your designer's advice and stay focused on the overall design goal.
--Give your decorator some latitude to decide for you the small details such as trims, pillows, accessories. Your project will move forward more smoothly if (s)he doesn't have to get your approval on every button and candle.
The last piece of advice is to give change a chance. The most dramatic changes usually come from introducing a strong new color or a different pattern. Don't panic! We are experts at color coordination, and we suggest the best paint colors for your home ONLY after palette and fabrics have been determined to ensure you get the quality paint job your home deserves. Paint may be the first thing we DO, but it's the last decision we make.
Just remember that all change—even for the better—requires a period of adjustment. Most homeowners who have redecorated their home will be quick to tell you "I should have done it long ago!"
Underwood is VP/Design Services for one of the top design studios of Decorating Den Interiors. She has trained and supervised dozens of residential designers across the U.S. for 20 years, and is eager to help creative entrepreneurs learn the basics of interior decorating. To learn more, contact her team at http://www.HowToBecomeAnInteriorDesigner.com.
Click to better understand the difference between an interior designer and decorator.
###