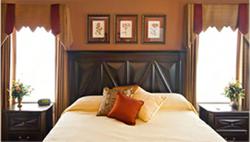 We are sure to please clients with the quality and even better prices of draperies offered.
Lancaster, PA (PRWEB) January 15, 2013
A new year is a chance for a fresh start. Why not remodel the home, transforming it into a dream? Let Heritage Design Interiors help with discounts and promotions specifically for this New Years new start.
Homeowners spend many hours inside their home throughout the year creating memories and planning events. These events may include dinner parties, entertaining, having guests stay over, birthday parties, graduations, or even just a quick get together. With all these possibilities for a family to entertain, it would only make sense to design a home that accommodates the living style. It is important for homeowners to feel comfortable and proud of their home.
Heritage Design Interiors Inc. is committed to delivering a home of comfort and style, providing whatever is necessary to make the whole family feel cozy. Catering to different styles and tastes, Heritage Design Interiors has Interior Designers in Lancaster that provide the skill and help desired to remodel or redesign successfully. They offer products for interior home design including draperies and window treatments, as well as services providing insight on furniture, flooring, color, and accessory advice.
Heritage Design Interiors is known for draperies in Lancaster and with the New Year promotion, President Anita Yoder says, "We are sure to please clients with the quality and even better prices of draperies offered". Helping people save money by taking advantage of this great deal and letting the interior designers remodel the home will eliminate the chance of making costly mistakes. Turn any home into a dream house by getting interior design advice from the professionals at Heritage Design Interiors.
Heritage Design Interiors will help guide homeowners with tips and tricks for all interior design needs, providing valuable resources to answer questions on the latest trends. They can remodel any room, such as a kitchen, bedroom, bathroom, living room or sun room that needs redesigned. They are at the top of their game for interior design in Lancaster PA. People turn to Heritage Design Interiors for their finishing touches and are amazed at the service received. The outcome of remodeling is monumental, and the savings are just too good to pass up with the New Year sale, so stop by their showroom at 1064 East Main Street, New Holland, PA 17557 or call 717-354-2233.