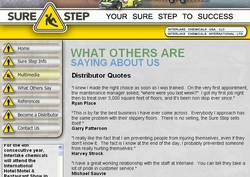 I knew I made the right choice as soon as I was trained. On the very first appointment, the maintenance manager asked,
Miami, Florida (PRWEB) October 16, 2009
Interlake Chemicals is proud to announce that for the 4th consecutive year we will attend the International Hotel/Motel & Restaurant Show in New York at the Jacob Javits Centre from November 8-10th, 2009. This show is very prestigious, and once again we will be the only company representing a Non Slip chemical. Our Sure Step is the most recognized Non Slip chemical in North America and around the world. As the world leader in Floor Safety, Interlake Chemicals would never miss this show because the contacts that are made at this show are terrific. If you have a chance, drop by and see us at booth number 2069.
More About Sure Step -
Sure Step by Interlake Chemicals is a long-lasting chemical treatment that creates an invisible, sophisticated tread design into the surface of hard mineral floors and porcelain/enamel bathtubs.Sure Step will not change the appearance of the floor or bathtub. Our product has been developed and proven for concrete, quarry tile, spanish tile, ceramic tile, glazed brick, marble, terrazzo, porcelain/enamel, and many other hard mineral surfaces.
Sure Step has been evaluated according to industry standards adopted by the American Society of Testing and Materials (A.S.T.M.). In accordance with A.S.T.M. Procedures C-1028-1894, Sure Step creates a safe walkway surface on quarry tile and glazed tile in dry and wet conditions. (A static anti-slip coefficient of friction of .50 or above is considered a safe walkway surface with a dry condition.) In fact, Sure Step by Interlake Chemicals increases the co-efficient of friction 200-400%.
Sure Step by Interlake Chemicals is not a film or a coating. Nor does it leave any chemicals, grit or residue on the surface of the floor or bathtub. Once a surface is treated, 100% of the solution is neutralized and then removed. A Sure Step treatment will not cause chipping, peeling or discoloration. In fact, a Sure Step floor and bathtub will look brand new again. Every floor and bathtub treated with Sure Step is guaranteed to have an increased coefficient of friction for at least one to five years. And we back it up with a written guarantee.
Leading organizations like the Hyatt Hotels, Mc Donald's Restaurant, Boston Pizza have used the revolutionary product by Interlake Chemicals and are happy with the results.
Interlake Chemicals provides excellent distributor opportunities as well. Since the product does what it says it does, is easy to demonstrate, has a huge potential for demand, and is affordable to meet this demand, it literally 'sells itself'.
Here's what some of our distributors have to say about us -
"I knew I made the right choice as soon as I was trained. On the very first appointment, the maintenance manager asked, "where were you last week?" I got my first job right then to treat over 3,000 square feet of floors, and It's been non stop ever since."
Ryan Place
"This is by far the best business I have ever come across. Everybody I approach has the same problem with their slippery floors. There is no selling, the Sure Step sells itself."
Garry Patterson
"I really like the fact that I am preventing people from injuring themselves, even if they don't know it. The fact is I know at the end of the day, I probably prevented someone from really hurting themselves."
Harvey Strock
"I have a great working relationship with the staff at Interlake. You can tell they take a lot of pride in customer service."
Michael Sauvie
"I basically manage the business. The profits are excellent which means I get to pay my sales team and installers accordingly. I also set up 4 dealers to handle the bathtub market."
Jack Rouseau
"I knew I was going to be successful with this product as soon as I was introduced to it. After showing the tile demonstration to the manager of a very large hotel & casino, his immediate response was "we will definitely be doing business together."
Mitchel Gautier
"This business is fantastic. I always wanted to start my own business and be my own boss. When I look at how much money I've made, I just wish I would have started earlier."
John Magistris
"Every time I treat a floor at a restaurant, I just love seeing the reaction of the staff. I had one waitress hug me once she walked on the floor."
Enrico Catalona
Interlake Chemicals, booth number 2069 at the International Hotel/Motel & Restaurant Show in New York at the Jacob Javits Centre from November 8-10th, 2009
###