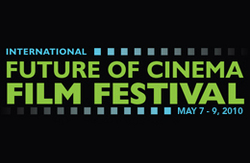 Interlochen, Mich. (Vocus) February 10, 2010
The motion picture arts program at Interlochen Center for the Arts is seeking film submissions for the third annual Future of Cinema International Film Festival. The festival is open to all high school students. The priority submission deadline is February 15, 2010. The three-day festival will take place at the DeRoy Center for Film Studies on the campus of Interlochen Center for the Arts on May 7 – 9, 2010.
The festival provides a setting for high school filmmakers to meet professionals and peers, screen work and discuss trends and new developments in cinema, while creating a greater understanding of a quickly evolving art form. Last year's winners and special guests can be viewed online at http://www.interlochen.org .
Entrants are welcome but not required to attend the festival. Categories include: Narrative, Animation, Documentary, and Screenplay. Detailed rules and submission guidelines can be viewed online. Winners of each category will receive an iPod Touch and a $2000 scholarship to Motion Picture Arts Camp. Additional scholarships will also be awarded.
Past special guests of the Future of Cinema Series have included Jeff Wozniak, senior digital artist at Lucas Films; Gordon Radley, former president of ILM; James Gartner, director of Glory Road; Ken Burns, documentary filmmaker; Andy Davis, director of The Fugitive and Holes; Adrian Belic, independent filmmaker, Joel McNeely, composer for Young Indiana Jones Chronicles; Ivan Raimi, screenwriter – Darkman, Army of Darkness, Spiderman 3; Jeff Daniels, performer.
The Future of Cinema Festival is part of the motion picture arts program at Interlochen Center for the Arts. Students study the fundamental components of screenwriting and production in the most advanced facilities available to high school students. Programs are offered through Interlochen Arts Academy , a fine arts boarding high school and a Interlochen Arts Camp , a six-week summer session.
The nonprofit Interlochen Center for the Arts, recipient of the 2006 National Medal of Arts, is the only organization in the world that brings together: a 2,500-student summer camp program; a 500-student fine arts boarding high school; opportunities for hundreds of adults to engage in fulfilling artistic and creative programs; two 24-hour listener-supported public radio stations (classical music and news); more than 600 arts presentations annually by students, faculty and world-renowned guest artists. For information, visit Interlochen online at interlochen.org.
# # #