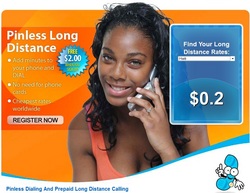 I know that this venture will be a fruitful one.
Miami, FL (PRWEB) October 31, 2010
Starting October 16 2010, the CallDirek Pinless Long Distance Calling service (an easy and affordable way to call anywhere in the world with great rates and without any connection fees) is available at any of the hundreds of retail locations in the United States where touch-n-Buy terminals can be found.
"We are always looking for new ways to reach our clients and ways to make it faster for them to access our services. The Touch & Buy terminal is just that, a convenient, fast and simple to use way for our customers to access our Pinless long-distance service" said Sebastien Antoine -CallDirek Marketing director. "I know that this venture will be a fruitful one." By using the touch-n-Buy terminal, in 3 simple steps, the customer can himself recharge his phone to make long-distance phone calls.
How to use the Touch & Buy screen to recharge your CallDirek account:
As Easy as 1…2…3
-Customer chooses Pinless category on the main screen.
-Customer selects CallDirek
-Customer proceeds to enter the cell phone number and the amount that he wishes to add to his account.
About Blackstone
Established in 1995, Blackstone has successfully managed to bring a complete end-to-end prepaid program to all retailers regardless of their size, through various electronic Point-of-Sale solutions and physical distribution. Blackstone's product line portfolio includes an assortment of brand-name phone cards, wireless recharge cards, mobile content products, prepaid handsets, bill payment processing, credit & debit card merchant services processing, gift cards/store value card reloads, web services and international hosting solutions. For more information, please visit our website at Blackstoneonline.com or contact us at 305-639-9590
Touch & Buy Locations
Touch & buy terminals are conveniently located at most convenience stores, gas stations, pharmacies or supermarkets.
What is CallDirek®?
CallDirek® is in the business of providing reliable, affordable telecom services for business and residential customers in the United States and abroad.
CallDirek® simplifies billing by covering prepaid long distance. With PIN-less service, you can throw out those phone cards once and for all, and our Internet phone service is a superior alternative to traditional PSTN phone lines; and all with big savings for you!
The CallDirek® vision is to establish itself as a leader in the prepaid telecom field. CallDirek® pricing, quality and organizational structure has already helped the company distinguish itself from its competitors. Today's CallDirek® is a growth-oriented forward-looking organization with a dynamic workforce, a strong dealer and agent network of thousands of loyal, happy customers.
CallDirek® is a wholly-owned subsidiary of Unitel, Inc., a Florida based corporation, Unitel is an FCC licensed and accredited Telecommunications Company and is in compliance with all regulatory standards called for by USAC. Our sophisticated IP technology throughout our global network provides clients with services that are affordable and reliable. Our goal? Helping to facilitate and improve communication for you, your family and friends.
Find a Touch & buy retail location near you today, and use the best pinless long-distance service available: CallDirek.
For more information contact us at 1-866-673-4735 or visit http://blog.calldirek.com
###