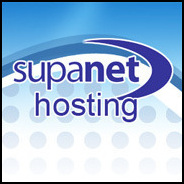 We pride ourselves on continuing to look for ways to expand and continue to provide the best and most cost effective web hosting packages available on the market
(PRWEB) April 20, 2007
Supanet Hosting, the popular web hosting provider, is delighted at the level of interest shown in its recently launched US Dollar (USD) site.
Since launching in March 2007 the site has been inundated with customers looking to take advantage of Supanet Hosting's range of special offers.
Andrew Barton, Marketing Manager for Supanet Hosting, said: "The high level of interest in our expanding service has been really pleasing. We have seen a number of international customers taking advantage of our great range of offers including the free 90-day trial that has already proved so successful in the UK."
The USD site has allowed the company to offer its fast web hosting services to customers around the world.
To mark the launch, Supanet Hosting reduced the prices of its portfolio of services, making web hosting available from as little as $1.99 a month and for UK customers that means web hosting is available for just 99p a month.
The company was recently awarded Hostreview.com's prestigious 'Fastest Growing Web Hosting Company' award and the response to the USD site ensures that Supanet Hosting will continue to grow.
"We pride ourselves on continuing to look for ways to expand and continue to provide the best and most cost effective web hosting packages available on the market," Barton continued.
Supanet Hosting offer every user a free web builder, including those who sign up to the 90-day free trial, which makes building a fully functional website as simple as possible. The easy-to-use web builder is available to try for free on the Supanet Hosting website.
About Supanet
Supanet has provided internet access and a range of other services to UK customers since 1998. The company prides itself on continuing to lead the market with exciting and innovative offers.
The Supanet portal offers free, quality content, with services including free webmail, SMS services and comprehensive online help. Commercial partnerships with, among others, Ask, MIVA, MoneySupermarket and uSwitch provide valued services for visitors to the site.
About Supanet Hosting
Supanet has one of the best-connected hosting facilities in the world, and have invested a great deal in both network equipment and backbone connections so customers get the fastest access possible to their content. This efficient infrastructure means that Supanet can offer its customers a great-value, high-quality service.
###