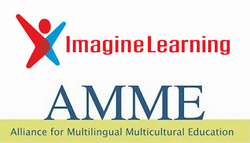 Multilingualism and biliteracy are the gateway tools for global economic, diplomatic, and educational success in the 21st century
Provo, UT (Vocus) September 8, 2010
Imagine Learning, creator of language and literacy software program Imagine Learning English, today announced its partnership with bilingual student and English learner advocate Alliance for Multilingual Multicultural Education (AMME).
The organizations announced the partnership on International Literacy Day, an annual celebration that reminds the international community of the status of literacy around the world. "Multilingualism and biliteracy are the gateway tools for global economic, diplomatic, and educational success in the 21st century," said Barbara Flores, AMME president. "The partnership between AMME and Imagine Learning will ensure academic equity and excellence in education."
Since its founding in 2004, Imagine Learning has worked to bring English language and literacy education to English learners around the world. AMME is an organization dedicated to promoting multilingualism and bilingualism across oral and written contexts. The organizations' shared commitment to educational equity for English learners led to what AMME and Imagine Learning executives see as a natural partnership.
"AMME and Imagine Learning are passionate about providing opportunities for students to achieve at the highest levels," said Imagine Learning CSO Derrin Hill. "This partnership will allow both organizations to provide districts, teachers and students with powerful tools to develop language and literacy skills in a rich multicultural and multilingual setting."
About Imagine Learning
Imagine Learning delivers award-winning educational solutions to English learners, struggling readers, students with disabilities and early childhood education students throughout the U.S. and around the world. Imagine Learning English is a language and literacy software program that uses engaging, one-on-one instruction to meet students' individual needs and provides real-time reports that give teachers comprehensive data on student progress. Visit us online at http://www.imaginelearning.com to learn how we can help you meet your students' individual needs.
About AMME
AMME is dedicated to bringing fundamental change to language education policy and practice for students in our nation. We promote standards of professional excellence in the education of linguistically and culturally diverse populations and partner with other organizations to actively promote educational excellence and equity for English language learners and their families.
# # #