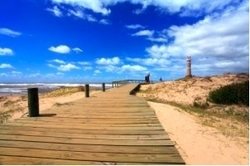 We've seen a phenomenal rise in interest in Uruguay among potential U.S., Canadian, and European expats and investors.
(Vocus) July 29, 2010
InternationalLiving.com held its first-ever Live and Invest in Uruguay E-Conference this week.
International Living recognized Uruguay many years ago as a place where retirees and other expats could live better, healthier lives more affordably than is possible in the U.S., Canada and Europe.
The online-conference focused on strategies for taking advantage of everything Uruguay has to offer the potential retiree or investor, including the country's safety and stability, great weather, modern infrastructure, an affordable health care system, a variety of reasonably priced real estate, and low cost of living.
Uruguay is already a hugely popular destination for South Americans looking for great vacations or second homes. And it's gaining fast as a retirement and second-home destination for North Americans, too.
Host Lee Harrison, International Living's roving Latin America editor, moved from the U.S. to Uruguay several years ago to improve his quality of life while making his retirement savings go much farther.
"In Uruguay, you can forget about the cost of health care…about sky-high taxes…about crime…or about 'doing without'," says Lee. "That's because Uruguay is rich in natural beauty, but without any Third World trade-offs. And it has some of the best and most inexpensive properties in South America."
Lee has two properties in Uruguay… an apartment in the central historical district of the capital, Montevideo, and a home on the beach just north of Punta del Este, one of South America's most popular vacation destinations.
"It's the best of both worlds," says Lee. "In Montevideo I get the urban lifestyle complete with cafes, restaurants, and lively culture, plus the remarkably low prices of apartments in the city center. And at the beach, I get the laid-back, relaxed, ocean-side lifestyle that attracts millions of tourists to Punta del Este each year. But with property prices a fraction of those for comparable properties up north. Affordability is why I can have two great places in Uruguay for less than the price of one property in the States."
Participants in the InternationalLiving.com Live and Invest in Uruguay E-Conference had an opportunity to have their questions answered by Lee Harrison and three other experts on Uruguay.
"This was our first e-conference dealing with Uruguay, and we're very pleased with the response," said Jackie Flynn, Publisher of InternationalLiving.com. "We've seen a phenomenal rise in interest in Uruguay among potential U.S., Canadian, and European expats and investors. We mounted this Uruguay e-conference because this format is one of the best ways we've found (outside of getting on a plane) to connect the experts on the ground, the people 'in the know', with potential retirees, second home buyers, and real estate investors."
Flynn said that the response to the Live and Invest in Uruguay E-Conference underscored Uruguay's current popularity as a retirement destination.
"We used a new format for this e-conference and had to limit participation to 180 individuals to test our capacity," said Flynn. "The response was so great that we've decided to make this e-conference available to anyone with an interest in Uruguay and its lifestyle and investment potential."
See the full story at http://internationalliving.com/2010/07/28-uruguay-the-best-of-latin-america-without-the-third-world-trade-offs/.
For more information:
Dan Prescher
+1 (402) 403-1941
http://www.internationalliving.com
###