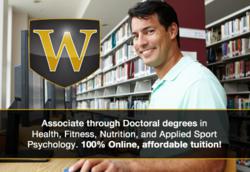 Wexford University offers affordable, accelerated online degree programs for US residents and students from around the world.
Rancho Santa Margarita, CA (PRWEB) February 12, 2013
As international education continues to grow in popularity, Wexford University is seeing clear evidence of the trend: Twenty-seven percent of all new students at the online university hail from countries outside the United States. The largest number of international students come from India, Singapore, Indonesia, Malaysia, China and Canada. Wexford University provides associate through doctoral degrees in health, fitness, exercise and nutrition as well as online education options for international students from around the world.
Each year, the number of international students studying at U.S. colleges and universities continues to climb. In 2011, international students increased by six percent to nearly 765,000.
"Wexford is truly a global classroom, providing more opportunities for students who are passionate about health and wellness to obtain a degree in an affordable, convenient and flexible manner," said Jack Bauerle, Chancellor of Wexford University. "Our professors enjoy working with and educating students interested in health, fitness and wellness careers from around the globe, helping to create a healthier culture in so many other countries."
Further, Wexford University allows international students to transfer credits from other universities; classes begin on a quarterly basis and enrollment is accepted online at http://wexford.edu/. International students must be at least 16 years old, complete an online admissions form and send official transcripts from previous educational institutions. A 10 percent discount is available when tuition is paid in full upfront, and military personnel can also receive an additional 15 percent discount on tuition.
Wexford University offers degree programs including an associate of arts degree in Fitness Training, a bachelor of science degree in Health and Fitness, a master of science degree in Nutrition and Exercise, a master of arts in Applied Sports Psychology and a doctorate degree in Applied Sports Psychology.
About Wexford University
Wexford University is dedicated to providing world-class education through cutting-edge technology, offering direct application degree programs in an accelerated format with 100 percent online learning to save time and money. Programs include an associate of arts degree in Fitness Training, bachelor's degree in Health and Fitness, master's degree in Nutrition and Exercise as well as master's degree and doctorate degree in Applied Sport Psychology. Wexford University is the higher education division of NESTA (National Exercise & Sports Trainers Association). For more information, please visit http://wexford.edu/.