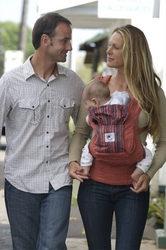 International Babywearing Week is a fantastic opportunity to bring awareness about babywearing to the general public
Syracuse, NY (PRWEB) September 20, 2009
With leadership from the nonprofit organization Babywearing International, Inc., volunteers and advocacy groups around the world are teaming up to raise awareness about babywearing during International Babywearing Week, September 21-28, 2009.
The term "babywearing" means carrying a baby or young child using a cloth baby carrier. Babywearing allows parents to have both hands free while carrying their children, and research indicates that this practice has numerous benefits for children.
A study published in the journal Pediatrics in 1986 found that 6-week-old babies carried at least three hours a day in a soft carrier cried and fussed 43 percent less than others overall, and 51 percent less in the evening hours. Another study, published in the journal Child Development in 1990, found that mothers who were given cloth carriers at birth were more responsive to their babies and had babies who were more securely attached than mothers who received plastic infant seats.
"International Babywearing Week is a fantastic opportunity to bring awareness about babywearing to the general public," explained Susie Spence, president of Babywearing International, Inc., the nonprofit organization that initiated the event.
"There are many safe and comfortable ways to carry a baby," Spence said. "This year's theme, 'Close Enough to Kiss,' highlights an ideal position for carrying a baby on an adult's front: high on the parent's chest with the baby's head or face close enough that the parent can bend his head down and kiss the baby," she explained.
"This position allows the baby to see the parent and the parent's world, and it also allows the parent to see the baby and assure that the baby has plenty of airflow. Many carriers allow parents to carry their babies in this position, and experienced babywearers, such as Babywearing International volunteer babywearing educators, can teach parents how to use different carriers in this position."
The "Close Enough to Kiss" theme is being celebrated by nonprofit groups around the world. "We have Official Celebrating Organizations in thirteen countries, and there are organizations in even more countries that are participating unofficially," Spence said. The groups are hosting babywearing workshops, photography exhibits, walks, picnics, and other events to raise awareness about babywearing and help parents and caregivers learn babywearing as a skill.
At the international level, presenting sponsors Babywearing International, Inc., and TheBabywearer.com are coordinating the International Babywearing Week awards to recognize excellence in babywearing advocacy and education. International Babywearing Week is supported by funding from presenting sponsor ERGObaby Inc., and general sponsors Moby Wrap, Inc., and DIDYMOS Erika Hoffmann GmbH.
For additional information about International Babywearing Week, contact Susie Spence or visit http://www.babywearingweek.org.
###