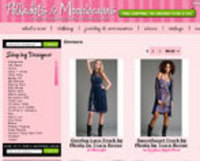 Since 1982, our brick and mortar store has been a shopping destination known for its selection of unique designer collection pieces and for treating every customer like royalty
Santa Monica, CA (PRWEB) March 5, 2009
Ecommerce solution provider UniteU Technologies today announced that its merchant clients can sell and ship globally through integration with the International Checkout solution. International Checkout Inc guarantees the merchants against fraud, ships worldwide, and provides multi-lingual customer service.
"In today's retail environment our merchants are looking for strategies that drive sales and one way to do that is to expand their reach," reports Rebecca Ramme, VP of Business Development at UniteU. "International Checkout opens up new markets and removes barriers for our customers who are small and mid-sized retailers. We are very excited about the growth opportunities this partnership brings to our customers."
Polkadots and Moonbeams, an LA-based retailer of fashion apparel, recently switched to the UniteU ecommerce solution to launch its new website in October of 2008.
"Since 1982, our brick and mortar store has been a shopping destination known for its selection of unique designer collection pieces and for treating every customer like royalty," says Wendy Borsuk, owner of Polkadots and Moonbeams. "Unfortunately, our website was not offering the same level of customer experience that we are able to offer in our physical store. We needed not just a redesign, but a solution which would give us the flexibility and resources to optimize our site and bring the customer experience to the next level. Catering to our international clientele was also a priority. We had been enjoying revenues generated by selling worldwide through International Checkout and it was important to us that we continue that relationship. When we found UniteU; we knew that it was the ideal solution for us."
Currently, sixteen of UniteU's ecommerce merchants are enjoying the benefits of selling internationally without risk. Through a simple integration performed by UniteU, consumers worldwide can shop directly on the merchant's site. With the click of an International Checkout button, the contents of the shopping cart are transferred to a branded checkout page, where the customer completes the checkout process. The International Checkout purchasing team places orders on behalf of the international customers directly on the merchant's website, following the normal domestic checkout procedures and paying via US credit card. Upon arrival at the International Checkout facility, each order is inspected, packed, and shipped to the customer's doorstep, anywhere in the world.
"UniteU's comprehensive solution, with the adaptability and extensive tools it provides, affords merchants an unparalleled opportunity to manage and grow their sites," says Kathy Beteta, Director of Business Development at International Checkout. "The professionalism of their staff and track record of success with hundreds of merchants makes us proud to partner with UniteU."
About UniteU
UniteU delivers on-demand ecommerce solutions that empower specialty retailers to create and manage online stores. Our ecommerce solutions have powered startups who reached the pinnacles of top 100 status and we have rescued merchants who outgrew rigid entry level systems. The UniteU Connected Commerce platform is PCI compliant and adapts and scales to meet the ever-changing needs of multi-channel retailers; supporting custom designs, integration, rich media, advanced promotions, multiple payment and shipping options and intuitive search and navigation capabilities. UniteU also retains valuable expertise, offering premier managed hosting, web analytics, in addition to e-business consulting and web marketing services that drive traffic, conversions and retention.
About International Checkout
Since 2002, International Checkout has been at the forefront of global e-commerce, providing a turn-key integrated solution that includes a full range of services. Merchants are able to open their sites to the quickly growing world market within a few short hours, accessing the burgeoning overseas buying power. By shifting fraud risk, fulfillment, customs documentation, merchandise returns, and customer service to International Checkout, merchants eliminate all of the risks and difficulties of conducting business internationally. International Checkout currently extends the reach of more than 130 online retailers. International Checkout was recognized as The Most Innovative Company of the Year at the 2008 Stevie Awards for Women in Business.
# # #