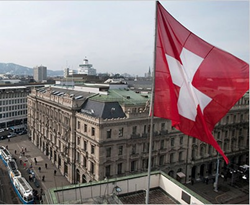 This new legislation marks a positive step towards ensuring the future stability and high regard of Swiss banking institutions
London, UK (PRWEB UK) 5 June 2013
According to the Financial Times, as part of an effort by the US tax authorities to reduce tax avoidance, Switzerland will now allow banks to make case-by-case settlements with the Internal Revenue Service (IRS).
The move comes after UBS admitted culpability in enabling US citizens to avoid paying US tax, which also led to other Swiss banks coming under investigation.
The primary point of contention is the issue over requests for information regarding US citizen's holdings in Swiss banks. Until now it was possible for individuals to keep the details of their holdings completely private.
New laws will allow Swiss banks to circumvent the country's privacy laws so that they can agree settlements with the IRS on a case-by-case basis.
It is hoped that this will mean that banks will not have to close if they are indicted by the US, as happened with Wegelin Bank in 2012.
The proposed laws would allow Swiss banks to provide information about the activities of their staff and clients in the United States. However, they will still not be able to provide the identity of account holders.
The information banks will now be allowed to provide will make it easier for the IRS to submit targeted requests for information within the framework of the double tax agreements between the US and Switzerland. Banks that choose to comply with these requests for information will be protected from further prosecution by the US.
The new law will be debated in the Swiss Parliament in June, and will come into immediate effect if passed.
Eveline Widmer-Schlumpf, Switzerland's finance minister, commented: "It helps banks out of the situation they are in, and it should make it possible for banks to focus on their core business again, which is providing good services."
David Retkin, Director of Operations at Pryce Warner International Group, commented: "This new legislation marks a positive step towards ensuring the future stability and high regard of Swiss banking institutions. We always welcome attempts to provide greater transparency in the world of international finance, as they help to decrease the perception that it is all about tax avoidance, which is usually the preserve of only a few rogue advisors."
Pryce Warner International Group have produced a free international tax planning guide to help expats with this matter.