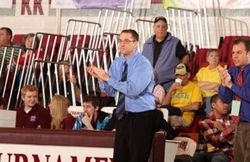 It's a blessing to have the opportunity to share my passion for basketball, people and God in Mexico.
Rocklin, Calif. (Vocus) March 31, 2010
William Jessup University's Associate Head Men's Basketball Coach, Jeff Bussell, is heading to Tuxtla Gutierrez, Mexico to run an international basketball clinic for 7-18 year olds on April 6-10.
Bussell will be working with Germán González, holder of the Association basketball of the State of Chiapas (ABECH), to develop highly competitive players to represent the state of Chiapas at the state and national levels.
After recently winning the CALPAC championship, associate coach Bussell is volunteering his time to Athletes in Action (AIA), a Christian organization founded in 1966 by David Hannah, who desired to build on society's great love of sports and utilize the platform given to the athletes to reach the world for Christ.
As a branch of Campus Crusade for Christ, AIA has a ministry presence in 85 countries, on nearly 100 U.S. college campuses, and on 35 U.S. professional sports teams.
In 2007, Bussell led a team of college athletes from around the country on a two-week mission trip to Mexico City. While there, he ran basketball clinics for youth, coaches, and university players and coached games against various university and club teams in Mexico City.
The opportunity allowed him to build successful relationships with AIA personnel from the region. As a result of his 2007 trip, Bussell came in contact with Bernardo Sierra of AIA Mexico, who was seeking an American coach to come down and help run the clinic this year from April 6- 9.
"It's a blessing to have the opportunity to share my passion for basketball, people and God in Mexico," Bussell admits. "From past experience, I know the kids will be eager to learn from everything I'm able to give them. They have hearts of gratitude and thankfulness and are such a joy to work with."
Bussell has spent the last 16 years involved in athletics and education. Before coming to Jessup six years ago, he served as vice principal, athletic director and coach at Sierra Christian Academy. He started out his coaching career at Casa Roble High School in Orangevale, CA. In addition to Bussell's local ties, he served as assistant men's basketball coach at Concordia University in St. Paul, Minnesota, the College of St. Scholastica in Duluth, Minnesota and has worked numerous basketball camps across the United States, as well as Denmark.
About William Jessup University
Founded in 1939 by William Jessup, the University moved to Rocklin, California, in August 2004. WJU is the first and only WASC accredited private four-year university to have its main campus located in the greater Sacramento area, offering degrees in many different disciplines, including Business Administration, Family & Children's Ministry, English, History, Intercultural Studies, Liberal Studies (Teacher Education), Music, Pastoral Ministry, Psychology, Public Policy and Youth Ministry. Anticipated majors include fields in the humanities and science. WJU also offers a School of Professional Studies (SPS) at its campuses in Rocklin and San Jose. Program concentrations in Rocklin include Business Administration, Counseling Psychology and a Post-Baccalaureate Teacher Credential Program. In San Jose, concentrations are offered in Business Administration, Counseling Psychology, and Christian Leadership. For more information, please visit http://www.jessup.edu or call (916) 577-2200.
###