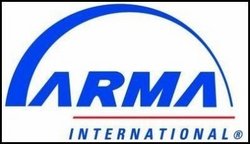 (Vocus) March 19, 2009
ARMA International is now accepting applications for the 2009 ARMA International Cobalt Award, recognizing organizations that have gone the distance to achieve excellence in managing their records and information enterprise-wide.
This is especially timely since today's business world is filled with changing laws and regulations and threats to data security and privacy, thus creating risk within all organizations. Records and information management is a crucial business function necessary to be competitive and compliant in the marketplace. The Cobalt Award celebrates organizations that have embraced this reality as part of their everyday business.
ARMA International will announce the winner of the Cobalt Award at its Annual Conference & Expo. The 2009 award will be presented in Orlando FL, October 15, 2009 to the competing organization that has best demonstrated excellence through proper policies and procedures, financial impact, and accountability.
The prestigious award is given to only those organizations that meet the highest standards of records and information management criteria identified by a group of experts. Their applications will be assessed by a panel of judges who are experienced in the various aspects of information management.
Is your organization up for the challenge?
Apply for the ARMA International Cobalt Award at http://www.rimexcellence.com. Applications will be accepted through April 15.
About ARMA International
ARMA International (http://www.arma.org) is a not-for-profit professional association and the authority on managing records and information. It is known worldwide for setting standards and best practices, and for providing comprehensive education, publications, and information on the efficient maintenance, retrieval, and preservation of vital information created in public and private organizations in all sectors of the economy. Formed in 1955, ARMA International is the oldest and largest association for the records and information management profession with a current international membership of more than 11,000. It also publishes the Information Management Magazine.
###