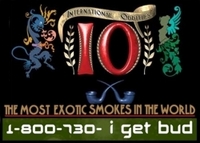 The Leaves of Grass staff were so well organized that we were able to time our product growth with their shooting schedules - This much fun should be illegal!
Torrance, CA (PRWEB) December 25, 2009
Although their herbal smoke products have appeared in many Hollywood feature films, International Oddities has never been offered a challenge to provide movie buds so key to the story in addition to appearing opposite actors the caliber of Ed Norton, until now.
It seems that despite the potential for typecasting, Ed Norton can do no wrong. "Leaves of Grass" is a new film in which he plays out not one, but two colorful clichés of the movie industry, yet does it so brilliantly that Roger Ebert--and everyone else at the 2009 Toronto Film Festival--have been singing praises for Norton and actor/director Tim Blake Nelson ("O," "The Grey Zone," "Eye of God"). The film revolves around identical twin brothers (both played by Norton), separated by several states and cultural ideals, who reconnect in Oklahoma to take down a drug lord (Richard Dreyfus).
The first of the clichés is that of identical twin brothers from culturally opposing worlds, and could have been unbelievable if placed into the wrong hands. With Director Tim Blake Nelson having secretly written the script specifically for Ed Norton, the intuitive genius at play pans out a performance that is pure gold. Films like this that have played off the twins concept in the past have left the actors reeling to recover from the "twin movie" curse, but not here, and never with such convincing twists and turns as in Leaves of Grass.
Norton not only manages the task of making the role something more than a genetic anomaly, but manages to portray brothers Bill and Brady (an ivy-league philosophy professor and Cannabis Cup-league marijuana farmer, respectively) believably and downright brilliantly.
With the remarkable diversity of roles Norton has played in the past, he has never played twins prior to "Leaves of Grass." He has, however, had ample opportunity to hone deeply multi-dimensional, dissociative characters such as in "Fight Club" where Brad Pitt was "almost" his twin. And films like "The Incredible Hulk" and "Primal Fear" have showcased his skills in the "split persona" department as well.
The second cliché which the film additionally circumvents and catapults beyond is the, "urban academic is shown the real meaning of life by the small-town hick" routine. The beauty of "Leaves of Grass", thanks to both Nelson's artful direction and Norton's masterful acting, is that ultimately neither brother is superior. Bill and Brady are both incredibly bright individuals, but have put their intelligence to use in very different applications.
Though moviegoers are by now pretty comfortable with Norton's portrayal of the urban professor type, the film establishes early that Brady is no typical small-town hick. Whether spouting Dostoyevsky-inspired musings about God or designing the ultimate hydroponic pot farm, he avoids the Midwestern hillbilly stereotype that is so easy for actors to fall into. He's clearly a philosopher in his own right, a character that demands the viewer set aside any mental biases that flare to life when they hear that Oklahoma drawl.
The seeming realism of the marijuana operation is something we've seen little of in film to date, at least of the potentially mainstream variety, with close-ups of Brady's livelihood that might just make law enforcement do a double-take. But, if you're wondering whether the pot plants and buds are real, well… yes and no. They're real buds all right, but no laws were broken in the making of this film thanks to legal buds or "stunt buds" provided by International Oddities, a California-based company that specializes in exotic herbal smoking products.
But as remarkable as the fictitious operation may be, it is the caliber of the actors involved--Norton, Dreyfus, and Susan Sarandon as Bill and Brady's hippie momma--that makes the film's portrayal of Midwestern life work in the long run.
To learn more about the 30 year legal bud smoking company International Oddities visit their online smoke shop.
###