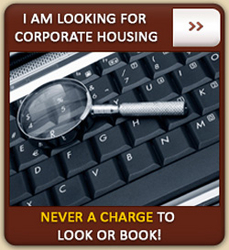 "Now that business travelers and relocating executives have a wealth of corporate housing options domestically on our site to choose from, we will stay on track with our plans to heighten our profile on the international stage." -Kat Schneider Foth
Cleveland, OH (PRWEB) December 23, 2009
With the economy starting to make a comeback, and business inching toward a return to domestic and international business travel, The Corporate Housing Network (TCHNetwork.com) is poised and ready to increase its footprint in the international corporate housing marketplace.
"While 2009 was admittedly a tough year for corporate housing and business travel, our site was fortunate enough not to feel the impact," said Kat Schneider Fotheringham, CEO and Co-Founder of TCHNetwork.com. "Now that business travelers and relocating executives have a wealth of corporate housing options domestically on our site to choose from, we are now able to stay on track with our plans to heighten our profile on the international stage."
"We consistently receive requests from our Fortune 500 clients to establish a stronger presence overseas, since they continue to travel and relocate employees internationally," said Erin Bozan, President and Co-Founder of TCHNetwork.com. "We want to be a one-stop solution for these clients, and not just solve their domestic executive housing needs," added Bozan. The site plans to increase access to premiere properties across the globe. Further, strategic positioning tools will be available to providers who market their fully-furnished, corporate housing options on TCHNetwork.com.
For inspiration and support, The Corporate Housing Network turned to colleagues worldwide to identify how they have fared. Prior to launching a plan to heighten TCHNetwork.com's international presence and offerings, the co-founders specifically wanted to pinpoint what has made overseas providers successful in the global marketplace.
Managing Director of The Apartment Service, an overseas-based company, Charles McCrow confirms The Corporate Housing Network's point of view. "The services and qualities our clients at the global level request most when considering where they'll stay and why are three-fold -- great rates, location, and flexibility," said McCrow.
The Corporate Housing Network concurs; they also realize that a true understanding of the global market is critical to being a successful international corporate housing provider, and their colleagues worldwide agree.
"My background with multinational companies helps me to understand the needs of corporate housing, and what an expatriate is looking for when he arrives with his family to a different country," said Paulo Barreiros, Managing Director & Owner, Portugal Rentals. "We can help them find temporary housing while their family settles and looks for a more final housing solution, avoiding a long stay at hotels. We also work with several relocation agents who know us and the quality of our properties," added Barreiros.
To achieve its international goals, both members and customers of TCHNetwork.com will begin to see a shift in emphasis in coming weeks, all designed to provide a greater level of customer service within international markets and destinations, including:
-An expanded map, which will include the ability for any provider, in every country around the world, to post their upcoming vacancies
-A more rapid response. Any prospect seeking flexible, furnished housing will be able to post a "Request for Housing" anywhere in the world, and providers will get back to them with a solution, typically within 1 business day
-A new marketing campaign, TCHNetwork.com founders will diligently identify and connect with providers worldwide
-TCHNetwork.com has ramped up relationships throughout the corporate housing industry; United States providers who may be considering expanding overseas will be able to connect with vendors who can accommodate their growing needs
"This is a very exciting time for The Corporate Housing Network and our clients. We are looking forward to 2010, namely the challenges and excitement competing in the international marketplace will inherently bring," said Fotheringham.
About The Corporate Housing Network (TCHNetwork.com):
TCHNetwork.com offers real time availability alternatives for thousands of short-term furnished housing options. The Corporate Housing Network's international network of temporary corporate housing providers offer furnished accommodations from apartments and condos to single family homes and vacation rentals -- all over the world. [There is never a charge to look or book corporate housing] on The Corporate Housing Network.
Contact:
Kat Schneider Fotheringham
The Corporate Housing Network
Website: http://www.TCHNetwork.com
Phone: 1.800.926.5011 or Mobile.919.946.0971
###