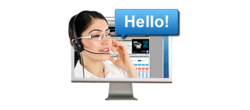 The eService package may be the most complete business package available in the home-business and direct sales industries.
Tampa, FL (PRWEB) January 04, 2012
Business is booming in the US and around the world for Liberty Health Network, LLC(LHN). When International sales are on the rise, so is the need for communications in different languages. To handle the rapid rise of Non-English speaking customers, LHN has installed a State-Of-The-Art customer service application across several core International sites.
"The addition of the Live Multilingual Online Help system greatly improves our ability to service our International clientèle in 60+ countries," says LHN Chief Operating Officer Russell Bly. Mr. Bly explains "Many of the Internet sites we provision are actually replicated web sites for our Independent Marketing Associates. With the new support system, prospective customers can actually interact with the corporate home-office while on the Associates replicated web site. New Associates no longer need to have all the answers to support questions because when their prospect reaches the Associates web site, we are right here to help answer questions and close the sale on behalf of our associates. It's pretty exciting technology. Since placing the system on our http://www.libertyhealthbiz.com web site, we've already seen an increase in conversions."
"Because of the vendor pricing of the Live Multilingual Online Help system, we are able to offer the service to our growing Associate base at no extra charge," states LHN Chief Financial Officer Tracy Grevert. "When someone starts a home-based business, there's no question they need support. Unfortunately... support costs. Our Independent Marketing Associates receive a complete Internet Business (eService) for less than the cost of a couple of Burgers and a pair of Milk Shakes at a fast-food restaurant! If an associate wanted to add multi-lingual online support on their own, the cost of that support would far exceed their eService plan cost. Since our cost is determined by the number of support operators and not by the number of web sites or inquiries, we can add that support and include corporate-level responses to inquiries for the Associate at no additional charge. That's huge!" Grevert says.
The eService package may be the most complete business package available in the home-business and direct sales industries. With eService, LHN's Associates have immediate access to the Live Multilingual Online Help system, Individual Desktop Video-Teleconferencing, Online Video Recorded Display, Over a dozen Product-Based Web sites with User defined search engine Optimization (UDSEO), Lead Capture Web Sites, eMail Autoresponders, Online Training and Support Blogs, Integration with Amazon sales, and much more. It's estimated that an individually, the tools provided by LHN would cost in the hundred's if not thousand's of dollars monthly. LHN provides these services for less than $15 on a monthly basis.
"Where else can you start a business for less than $100 and..
Send an e-Mail to a friend in Europe and have him watch an online movie you recorded explaining exactly why they need to join you AND
Have your friends meet you on your own website for a private video-teleconference you host from your own desktop and web-cam AND
Get all your friends questions answered in Spanish, French, Italian, or any number of other languages by a LHN Corporate Office employee AND
Make the sale in Euros on your own website AND
Let LHN collect the fees, pay your commission, and ship your products
All with a 60-Day Rock Solid Money-Back Guarantee? Only at Liberty Health Network!" proudly says Bly.
For individuals looking to start a home-based business in the US or Internationally, LHN has broken down many barriers. Simply by purchasing any product and enrolling for eService, individuals may start an International business with LHN without having to pay enrollment fees common in other businesses. LHN expects to add the Live Support system to all replicated sites in the upcoming months.
About Liberty Health Network , LLC.
Liberty Health Network is one of the nation's leading Direct and Internet Marketing companies with a state-of-the-art Global Distribution facility in Tampa Bay, Fl. For 12 Years, the Liberty Health Network name has been synonymous with high quality Mortechem-Free Nutritional Supplements, Skin Care and Web Applications.
Liberty Health Network distributes products and services Internationally. Businesses or Individuals interested in distributing Liberty Products or requiring more information should contact Chief Operating Officer Russell Bly at (813) 774-8191. The statements made on this website have not been evaluated by the Food & Drug Administration. These products are not intended to diagnose, prevent, treat, or cure any disease.
###