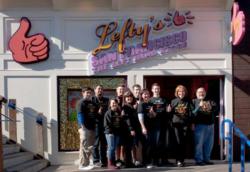 San Francisco, CA (PRWEB) August 09, 2012
Lefty's San Francisco and thelefthandstore.com will celebrate International Left-Handers' Day, August 13, with games, prizes, and demonstrations of left-handed products. On August 13, 1976, a British organization known as Lefthanders International declared a special day for lefties, a day devoted to raising awareness of the particular difficulties and strengths of left-handers. The original organizers are no longer around, but International Left-Handers' Day is now celebrated around the world.
This year Lefty's decided to have a party at the flagship store, Lefty's San Francisco on Pier 39, with an on-line party on their Facebook site. All day long on August 13, Lefty's will play music by left-handed musicians, and run contests with questions about lefties, giving prizes to the winners. A great left-handed cook will demonstrate left-handed cooking utensils and equipment. At 5 PM, the store will hold the Grand Left-Handers' Day contest - all past winners will be eligible, and there will be a series of run-off rounds until the Grand Prize winner is selected.
On the Lefty's Facebook site, a contest question will go out every hour from 9 AM to 9PM, Pacific Time, and the first person to answer will receive a prize. Lefties from everywhere will be encouraged to write in to share their experiences as well as their ideas about how to celebrate Left-Handers' Day.
Left-Handers' Day serves a several purposes. First it is a day for Lefty Pride - to teach lefties about the remarkable accomplishments of left-handers throughout history. Left-handers have been discriminated against in almost every culture and historical era - ridiculed, punished, and maligned. Yet many of the world's greatest leaders, soldiers, artists, thinkers, and scientists have overcome this prejudice. For today's lefties, who've endured their own trials in a world designed for the right-handed, this can come as a revelation. This knowledge can be especially important for lefty kids, who often struggle to write, measure, cut and draw with right-handed tools, and as a result have issues with self-esteem.
Another purpose of Left-Handers' Day is to promote awareness among those who make things hard for lefties - especially teachers and school officials who may not know how difficult things can be for left-handed kids. Left-handers face design discrimination in almost all walks of life. Every workplace can be better arranged and equipped, increasing both productivity and morale.
Finally, Left-handers' Day is a time to promote knowledge of left-handed tools and equipment. Items such as left-handed scissors, rulers, notebooks and pens can dramatically change the life of a child. The venerable French school supply manufacturer, Maped, has determined that left-handedness is increasing among school children, and has designed more and more of its products for left-handed use.
Left-handed adults, who think they've adapted to right-handed tools, aren't even aware of the range of tools and equipment that now exist to make their lives more comfortable and productive. From left-handed computer mice to left-handed kitchen knives, tape measures to can openers, scissors to measuring cups, Lefty's and thelefthandstore.com carry the world's most extensive and interesting selection of left-handed tools and gifts. A tool that saves 10 seconds a day frees up over 6 hours for more enjoyable pursuits over the course of a single year.
For the past two years, Lefty's has held left-handed video contests to mark Left-Handers' Day, and has had some great entries. This will be the first year of contests and prizes designed for lefties of all types and skills, and promises to be great fun. In addition to Lefty's San Francisco, Lefty's has two stores in the Orlando area - at the Marketplace at Downtown Disney, Walt Disney World Resorts, and at Old Town, Kissimmee.