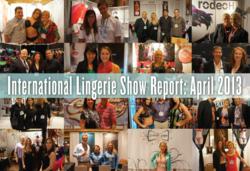 "The buyers at ILS range from mom-and-pop stores to some of the largest buyers in the business." – Alicia Sinclair, Baci Lingerie
New York, NY (PRWEB) June 04, 2013
The Lingerie Journal recently released a new guide and recap to the International Lingerie Show (ILS). The feature story showcases over 100 images and identifies new trends encountered at ILS.
Held twice a year in Las Vegas, the International Lingerie Show is one of the largest business-to-business lingerie trade shows in the United States.
"We wanted to give our readers more insight into what makes this show work for exhibitors and retail buyers," noted Luis Paredes, publisher of the Lingerie Journal.
The story highlights standout trends and brands from April's trade show including a look at the influence of fetish culture on lingerie and pleasure products.
Paredes noted the growing profitability of the pleasure product industry for retailers as one of the key highlights of the show. April's show proved to be one of ILS's most successful with many brands noting that foot traffic was good and buyers receptive to new orders noted the show's producer, Speciality Trade Shows, Inc.
The ILS Show Report can be read here: http://thelingeriejournal.com/ils-april-2013-show-report/
"ILS was fabulous for us in many ways. The environment was so fun and friendly. We met so many unique and wonderful people. And, the buyers seemed genuinely excited to see new products," said Laura Wright, designer and founder of Lulu & Kath. "We had so much traffic through our booth that we are already planning on getting a bigger booth next time."
The Lingerie Journal team plans another ILS feature before the show's next edition this summer.
About The Lingerie Journal
The Lingerie Journal is the number one online lingerie trade publication in the United States reaching hundreds of consumers, buyers, lingerie retail store owners, independent lingerie designers, wholesale manufacturers, influential lingerie bloggers, and other intimate apparel professionals (as well as those in related fields) on a daily basis. Follow and interact with the Lingerie Journal on Twitter to learn more and keep up on the latest lingerie news and lingerie trends @lingeriejournal.