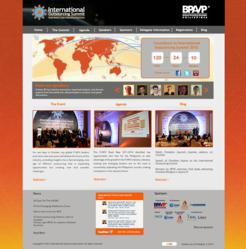 As the industry evolves, we're seeing new drivers of growth emerge.
(PRWEB) September 07, 2012
According to the organizers of the International Outsourcing Summit 2012, developments in technology, expanding demand for services—especially complex services that help companies innovate for sustainable competitive advantage—and shifts in public policy as a result of prolonged global economic malaise are creating new, exciting, and sometimes frightening opportunities and challenges for the global IT-BPO industry.
They are asking the expected 500 delegates to this year's Summit, "How is, and will, the industry respond?" The Summit takes place October 7-9 in the Philippines' premiere central business district, Makati.
IOS 2012 is the fourth in a series of annual Summits designed for executives in the fast-growing global IT-BPO industry and organized by the Business Processing Association of the Philippines (BPAP), its partner associations, and members. The Summit complements other meetings in India, North America, and Asia, but has quickly become an important networking opportunity for the industry.
Each year, the visibility and prestige of the Summit has grown as the Philippines' influence within the IT-BPO industry globally has expanded, and the country's popularity as a global provider of business services has grown. Industry revenues grew almost 40% over the first three years the Summit was organized, from $7.1 billion in 2009 to $11 billion last year. Direct employment increased from 423,000 to 638,000, a 44% jump.
The Philippines' $11 billion in 2011 revenue accounts for close to 13% of total global industry revenue of $87.32 billion, based on data provided by India's NASSCOM, or National Association of Software Services Companies, and BPAP. If the Philippine IT-BPO industry grows another 20% this year—considered by many to be at least a somewhat conservative estimate—revenues will exceed $13 billion and account for a slightly higher share of the rapidly expanding global market pie.
Although the Philippines is considered the global leader in voice services and a strong competitor in complex, non-voice services, India accounted for 58% of global IT-BPO revenues in 2011 on the strength of IT and software services. Software and software services account for the vast majority of India's IT-BPO export revenue—87% of exports—and NASSCOM says software and services will grow almost 15% this year.
In the Philippines, non-voice services—which include a wide range of services exports ranging from health information management to engineering and project management services—accounted for almost 33% of total IT-BPO revenues last year. Although voice services revenue continues to grow rapidly at around 20%, growth in non-voice services is outpacing growth in voice services. Health information management grew more than 170% last year, and IT outsourcing—which includes software and software services—expanded almost 40%.
Given these numbers, it's fair to ask, "Have we entered the golden era of outsourcing?"
Indeed, other global IT-BPO services centers are also growing rapidly, and along with NASSCOM president Som Mittal and BPAP chairman Alfredo Ayala their representatives will participate in a discussion on the Summit theme of threats, challenges, and opportunities for the industry. Summit delegates—IT-BPO industry executives from around the world, government officials, educational experts responsible for developing knowledge workers, and client executives responsible for outsourcing business processes—will participate in what promises to be an illuminating discussion.
"As the industry evolves, we're seeing new drivers of growth emerge," BPAP executive director for industry affairs Raymond Lacdao told me recently. Mr. Lacdao has overseen the IOS since 2010.
"This year's Summit will seek to increase understanding of these new drivers of growth, their impact, and how the industry is likely to adapt business models and strategies in response," he said. Seven plenary sessions will frame strategic issues for delegates and almost 70 speakers and panelists. Six breakout sessions provide the opportunity to examine the future of specific industry sectors and trends.
Clients of the industry expected at the Summit represent a broad spectrum, from restaurant operators like Carl's Jr. and Hardy's, global logistics companies like NYK, and internal telecommunications firms like Telstra. Industry executives include virtually every top services provider in the world, and shared services—or global in-house centers—executives will represent financial, insurance, energy, legal, and engineering firms.
The two days of serious discussions will be complimented by gala dinners for delegates, exclusive briefings, business matching activities, and unconferencing—presentations that leave delegates both laughing in delight and cheering in awe—as well as a trade exhibit. IOS 2012 is both an international gathering and a venue for demonstrating the Philippines' capabilities in one of the world's fastest-growing industries.
Visit http://www.internationaloutsourcingsummit.com to register and begin preparing for three days of compelling conversation, incredible networking, and rewarding business development opportunities.