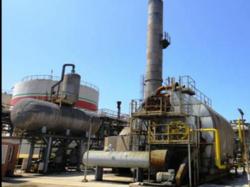 Sulfuric acid demand will reach nearly 120 million tons in 2017, with the highest growth in Central and South America, according to a Market Research & Consulting Ltd. report.
Hamilton, NJ (PRWEB) May 01, 2013
International Process Plants announces a Lurgi double-absorption type sulfuric acid plant available for sale. This sulfuric acid plant presents an opportunity for phosphate fertilizer manufacturers to vertically integrate their supply chain, reducing costs and hedging against market fluctuations.
According to a report released in September 2012 by Market Research & Consulting Ltd, demand for sulfuric acid is on the rise, specifically linked to the fertilizer industry. The report forecasts that sulfuric acid demand will reach nearly 120 million tons in 2017, with the highest growth in Central and South America (a 3.7% CAGR).
This Lurgi double-absorption type sulphuric acid plant started production in 2000 and shut down in December 2010. The plant is rated for 2,400 mt/day of sulfuric acid (100% basis), and can run as low as 960 mt/day. The plant produces sulfuric acid at 98.5% concentration and sends less than 300 ppm of SO2 out of the exhaust stack. Also included at the site is a small oleum plant with a capacity of 150 mt/day (103% sulfuric acid).
This plant location has excellent transportation options by road, rail, and water. Barges and ships can be loaded only a few kilometers from the plant site. The process control system is Honeywell TDC 2000. All field instrumentation is electronic.
More information about this sulfuric acid plant is available at ippe.com.
About International Process Plants
International Process Plants (IPP) is a self-funded global buyer and seller of surplus manufacturing facilities, process plants, industrial real estate, and individual equipment that are no longer needed by their original owners. 80% of IPP's purchases are from multinational companies and 20% are bought in distress situations. IPP's business model provides the opportunity for companies to acquire such assets at competitive prices and in a fraction of the lead time of building or buying new. IPP also serves as an outlet for companies looking to divest surplus assets quickly in a fiscally and environmentally conscious manner. IPP currently owns 17 complete plant sites including the land, buildings and equipment, 85 complete processes to be moved and operated elsewhere and a stock of 30,000 major pieces of process equipment. One of the largest firms in this business, IPP operates globally from its headquarters in the US and its company-owned operations in 16 other countries. In business for over 35 years, IPP serves 160,000 clients in the chemical, agrichemical, petrochemical, oil & gas, paper, plastic, power generation, metallurgical, fertilizer, artificial fiber, pharmaceutical and food industries. Learn more at http://www.ippe.com.