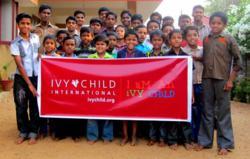 My service trip to India as a teenager changed my life. It not only helped me recognize my life's passion and mission in human service but made me ever so grateful for the simple things we often take for granted.
Worcester, MA (PRWEB) August 13, 2012
Ivy Child International (Ivy Child), a cross-cultural positive psychology non profit, is offering students the opportunity to study and volunteer abroad with Ivy Child's International Service Learning Program in Kerala, India.
Going abroad gives individuals an opportunity to immerse themselves in another culture and a study by the Institute for the International Education of Students (IES) shows that students who are exposed to a different reality than their own through their study abroad experience, develop a lifetime of benefits. Studying abroad changes many students' views of their education and they return home with a greater academic vigor. The study conducted by IES found that nearly 63% of students' abroad experiences influenced their choices of majors.
Studying abroad can also help enhance the chances of securing a job. Employers are seeking individuals who are well-rounded, culturally aware, and willing to work outside of their comfort zone. They want employees to work effectively in the ever increasing global workspace as well as employees who are satisfied with their job. Studying abroad also helps students gain better insight into the direction they want for their careers and thus increases happiness in the workplace.
Perhaps one of the most significant impacts of studying abroad lies in the intangible personal growth and development which, among other things, includes an increased understanding of one's own cultural values and biases. 82% of participants in IES's study said they had developed a more sophisticated view of looking at the world. The immersion into another culture, while overwhelming at times, can also stimulate personal growth and increased self-confidence.
Rose Pavlov, founder of Ivy Child International, remarked about her study abroad experience: "My service trip to India as a teenager changed my life. It not only helped me recognize my life's passion and mission in human service but made me ever so grateful for the simple things we often take for granted such as electricity, healthcare, learning resources and opportunities that are so vastly different for young women, youth and children in other areas of the world."
Ivy Child International's International Service Learning Program combines academic training with community service and cultural immersion to give students a meaningful study and volunteer abroad experience. This program is aimed at globalizing the student's educational, field, and volunteer experiences through participation in community-based, on-site research.
Ivy Child International is now accepting applications from students to study and volunteer abroad for alternative intersession and summer break. This is scheduled to take place in January 2013, with the summer program scheduled to take place from May through August 2013.
The program is to be held in the culturally rich and scenic state of Kerala, in the southernmost tip of India. Ivy Child has active programs running in two orphanages in the state of Kerala and this service learning program will assist in expanding and strengthening the needs assessments, interventions, and evaluations used to improve the emotional, developmental and intellectual lives of the children. However, with many other similar organizations and agencies in need of Ivy Child's methods and programs, these needs will be carefully considered and vetted prior to student placement.
The focus of the four-credit program is Global Leadership training in human service and international nonprofit management. Students will study the applications of expert positive psychology practitioners, enabling them to design contextually appropriate application plans that can be used for the benefit of the target groups with whom they will work. In the process of applying these concepts and theories, students will not only deepen their understanding of psychology but also experience higher levels of positive emotion in their own lives.
The program encompasses a three-credit hour academic course with daily class meetings to be held at the Mahatma Gandhi University, an accredited university in Kerala, as well as over 20 hours of on-site field work in local schools, orphanages and nonprofit organizations contributing to an additional credit per week.
The program also offers the opportunity of getting to know the local culture, customs and cuisine through organized tours, workshops and activities.
Equipping students to embrace diversity by developing unique and innovative academically-based community service opportunities, this international program strives to increase and enhance civic engagement, cultural literacy/competence, leadership skills and global citizenship.
Ivy Child offers programs for kids, teens, caregivers, educators and research such as Bullying Prevention and Leadership, Yoga and Mindfulness for kids and for the holistic well being of pediatric cancer patients, and Multicultural and Music Education, to teach conflict resolution skills, self-regulation, and cultivate cross-cultural understanding in schools, after-school programs and community centers. Read more about these programs by visiting ivychild.org.
To partner with Ivy Child or for an interview, please contact:
Rose Pavlov, Founder of Ivy Child International, by phone: 508-299-7905 or via email: rpavlov(at)ivychild(dot)org.