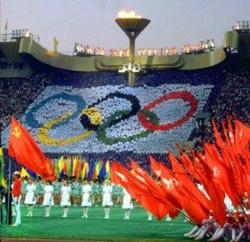 As an English teacher living in one of these countries, you have a once in a lifetime opportunity to enjoy the Olympic experience in-person as a local
Chicago, IL (PRWEB) July 28, 2012
To commemorate the opening of the London 2012 Summer Olympics and celebrate the Olympic spirit of international peace and cultural exchange, the International TEFL Academy is publishing a new article "Want to Teach English in an Olympic Host Country?" encouraging those who wish to explore the world and enjoy the Olympic experience to consider teaching English abroad in the future Olympic host countries of Russia, Brazil and South Korea.
The article provides an overview of the thousands of employment opportunities that open annually for native and fluent English speakers who earn their TEFL certification (Teach English as a Foreign Language) to teach English professionally in these three nations.
In an era of slowing economies and depressed employment opportunities, the field of teaching English abroad represents one of the fastest growing job markets in the fields of education and international employment. An estimated 250,000 foreign English teachers are hired annually in nearly every country on the globe.
The future Olympic host nations of Russia, Korea and Brazil are three of the largest and fastest growing job markets for English teachers abroad. In Korea alone, an estimated 25,000 foreign English teachers are employed annually. Those who teach English in Korea enjoy some of the best pay and benefits in the field, including reimbursed airfare, free housing and salaries high enough that many teachers are able to save in excess of $1,000 a month after expenses.
Brazil and Russia are also booming job markets for English teachers. With relatively robust economies and a growing dependency on foreign commerce and tourism, the demand for English language instruction is at an all-time high, particularly in business sectors.
According to Bruce Jones, President of the International TEFL Academy, teaching English abroad in Russia, Brazil and Korea not only provides great employment opportunities for those who want to live and travel abroad, they also unique chance to be at the heart of the Olympic experience as a resident of a host nation.
"Not everybody has thousands of dollars to travel to the Olympic Games," Jones said. "But as an English teacher living in one of these countries, you have a once-in-a-lifetime opportunity to enjoy the Olympic experience in-person as a local."
Jones says the Olympics and teaching English abroad have a lot in common. "The Olympics are about competition, but they are also about promoting respect and mutual understanding between people from different cultures. As an English teacher abroad, you are living those ideals."
International TEFL Academy (ITA) is a world leader in training and certifying English speakers to teach English abroad. Based in Chicago, IL, ITA trains more than 1,200 English teachers annually and offers internationally accredited TEFL-TESOL certification courses online and in 25 locations around the world. All students and graduates receive lifetime job search guidance and graduates are currently employed as teachers in dozens of nations in Europe, Asia, Latin America and the Middle East.
For more information, please visit: http://www.internationalteflacademy.com