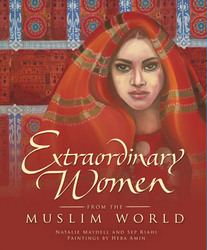 We're proud to honor a few of the many Muslim heroines in this colorful, entertaining book
Philadelphia, PA (PRWEB) March 6, 2009
The publisher of the new illustrated children's book, 'Extraordinary Women from the Muslim World', announces the launch of the first-of-its-kind picture book of famous female role models from throughout Islamic history.
Now available in the United States, the limited-edition hard back series has already won several top book awards including:
USA Book News' 'National Best Books' Award
Moonbeam Children's Books 'Peacemaker Award'
Middle East Outreach Council's 'Middle East Book Award'
Through stunning illustrations, author Natalie Maydell and Egyptian artist Heba Amin share the fascinating lives of Muslim heroines with young readers for the first time. From the wives of Muhammad to an African poetess, from an Egyptian singer to a Turkish fighter pilot, 'Extraordinary Women from the Muslim World' tells inspirational true stories that dispel commonly held stereotypes about Muslim women.
"We're proud to honor a few of the many Muslim heroines in this colorful, entertaining book," explained Sep Riahi of Global Content Publishing, the publisher of 'Extraordinary Women from the Muslim World'. "Our hope is that these positive Islamic role models will inspire young people of all cultures and religions."
About 'Extraordinary Women from the Muslim World'
The first limited-edition hard back series of 'Extraordinary Women from the Muslim World' is now available in the United States through the book's website, ExtraordinaryWomen.TV and various retailers. All profits from the sale of the book will benefit charities delivering aid to women and children of Darfur, Sudan. International distribution is planned for late 2009. For more information, visit ExtraordinaryWomen.TV
###