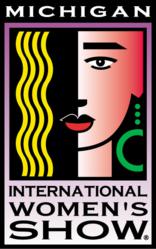 Get inspired, feel refreshed and uncover the secrets to living well, feeling healthy and having fun
Novi, Mich. (Vocus/PRWEB) April 19, 2011
The 16th annual Michigan International Women's Show opens Thursday, April 28 and runs through Sunday, May 1, at the Suburban Collection Showplace (formerly Rock Financial Showplace), Novi, with everything under the sun for women of all ages and interests.
"Hundreds of exhibitors will display cosmetics, fragrances, lingerie, purses, shoes, gifts, décor items, food, fashion, accessories, arts and crafts, and more," said Beth Anderson, executive show manager of Southern Shows. "Not only that, 'The Balancing Act' from Lifetime TV will have a pavilion to help women find balance in their busy lives, there will be cooking demonstrations, inspiring stories from Jenna Bush Hager and a male fashion show featuring the Novi Fire Department firefighters."
Jenna Bush Hager, author, educator and correspondent for NBC's "Today" program, will share her experiences on making a difference through the power of compassion on Thursday at noon, sponsored by Detroit Medical Center. She is the daughter of former U.S. President George W. Bush and Former First Lady Laura Bush and granddaughter of former President George H. W. Bush and Former First Lady Barbara Bush.
Royal wedding weekend events will be complete with the "Cupcakes for Weddings" demonstration by Henry Ford Community College Baking Club, "Wedding Cakes 101" presented by Mary Denning's Cake Shoppe, "Down the Aisle in Style–Your Own Royal Wedding" by Bella Salon and Bridal Outreach Project fashion show by Every Girls Dream, Inc. whose mission is to provide a wedding gown to brides undergoing financial hardship. Attendees can take their photo with a royal couple life size cutout.
Beth Troutman and Kristy Villa, hosts of "The Balancing Act" on Lifetime, will be featured at the "Balance Your Life Road Tour" pavilion created to help women balance it all with elements on health, fashion, beauty, travel, business and all aspects of a woman's life.
Josh Elledge of SavingsAngel.com will teach how to cut a grocery bill in half using their database and technology resulting in more deals, greater savings and better flexibility.
Author and TV design expert Kathy Peterson shares tips from creating fabric flower accessories and elegant paper crafts to how to up-cycle old furniture as she explains how creativity can inspire and transform your life.
Custom-blended European skin care from Votre Vu will be featured during "French Skin Care Secrets Revealed" fashion stage presentation and in their VuBAR Airstream with free product sampling and skin care analysis.
Chevrolet will display their Camaro convertible, Cruze and Equinox cars and let show attendees test drive the all-new Chevy Volt electric car.
Cookbook author Lisa Shively will share quick cooking techniques and classic favorite recipes from her southern cooking and children cookbooks prepared with normal ingredients and simple directions.
Other chef instructors and organizations that will bring their brand of food enlightment to the Stonebridge Kitchen & Bath Cooking Stage include Capuchin Soup Kitchen executive chef Alison Costello with healthy and sustainable comfort foods of vegetarian cabbage roulade, black bean, corn, yam and enchilada bake and baked flaked chicken, Glory Foods Chef Eric Giles with southern-style cooking, Henry Ford Community College with ice carving demonstrations, Cooking with Dawn Tours Chef Dawn Bause with "How to Turn Veggies into Happy Meals," Sweet Sass Foods with Sass it Up Pizza, Schoolcraft Community College with Greek tea cookies, Mexican fiesta, Dove Chocolate Discoveries with easy and elegant desserts and personal chef Debra Walter with fresh, fast and healthy vegan food.
Ice cream sampling and makeovers will be available at the Kroger Experience exhibit along with free health screenings for blood pressure, glucose, cancer risk and other tests.
The latest developments in health will be available at the DMC Pavilion sponsored by Detroit Medical Center. Doctors and specialists from all areas of medicine will be on hand to consult one-on-one and answer individual health and care related questions.
Artistry Experience will feature complimentary skin-care assessments, demonstrations and product sampling of Artistry skin care and cosmetics.
Spring makeup trends and helpful cosmetic tips will be part of the makeovers offered by Macy's beauty experts along with an array of new spring scents.
National Sewing Council's Sewing Lounge will provide make-n-take projects to help teach basic skills as well as to inspire advanced sewing, quilting and embroidery enthusiast.
Novi Fire Department's charity fashion show will heat up the runway Friday and Saturday with firefighters modeling their dress blues and bunker gear. American Heart Association will display The Red Dress Tour and host the "Go Red For Women" fashion show featuring local survivors. Additional fashion shows include new spring styles, tunics, gowns and evening wear collections. Salvation Army Thrift Stores and Donation Centers will have a bargain boutique featuring collectibles and fashion wear for sale.
Other features include Do It Herself Stage; The Detroit News front page history exhibition; Magic Mania Scavenger Hunt with gifts hidden throughout the show each day; free reusable Women's Show shopping bags and special gifts to the first 100 show attendees each day; Thursday's Nurses Day with special savings, free insulated lunch box for the first 100 guests and healthy cooking classes sponsored by the Michigan Nurses Association; Friday's Royal Treatment tiaras for the first 150 show goers; Friday's Girls Night Out with movie passes compliments of channel 955 and E-Magine theatres for the first 95 attendees entering after 5 p.m.; Sunday's Mother & Daughters Day with gifts and prizes; and more than 400 exhibitors displaying cosmetics, fragrances, lingerie, purses, shoes, gifts, décor items, food, arts and crafts, health screenings, fashion and accessories.
The 16th annual Michigan International Women's Show is presented by The Detroit News and sponsored by Chevrolet, The Detroit Medical Center and Kroger. Supporting sponsor is Michigan Nurses Association. Suburban Collection Showplace is located at 46100 Grand River Avenue between Novi and Beck Road in Novi. Show hours are 10 a.m. - 7 p.m. Thursday; 10 a.m. - 9 p.m. Friday; 10 a.m. - 7 p.m. Saturday; and 11 a.m. - 5 p.m. Sunday. Admission is $9; youth 6 – 12 are $5 and children 5 and under are admitted free with a paying adult. Advance tickets are $8 online. Discount tickets are available at Kroger for $7. Group tickets for 10 or more are offered in advance online for $7.50. Happy Hours are everyday after 5 p.m. with $5 admission, free gifts, discounts and special demonstrations. On site parking is available for $5. For more information and exhibitor coupons, visit http://www.InternationalWomenShow.com or call (800) 849-0248.
# # #