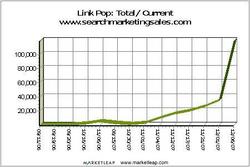 (PRWEB) February 5, 2008
SearchMarketingSales.com has yet again established itself as a One Stop Provider for complete and extremely affordable Internet marketing and website promotion campaign. Now made available is the one service many are searching for - Deep Links Directory Submission Service
It was just 1 month ago when SearchMarketingSales.com stepped forward to unveil its guarded Internet Marketing Secret - How they acquired over 100,000 SEO-friendly one-way links with all links indexed within 30 days. According to the company, any webmasters can acquire such massive inbound links by following the simple, step by step guide and proven Web Promotion Marketing E-book, which has since sold over 500 copies and still selling.
Now this certified SEO firm from Australia, launched the most sought-after Internet marketing service - Deep Links Directory Submission. For many that have been doing Internet marketing, directory submission is an effective method to acquire quality one-way links and targeted web traffic. However while many service providers focused on manual or auto directory submission, almost none is providing deep links directory submission service.
"At SearchMarketingSales, we provide quality & proven Website Promotion Services for a complete Link Building campaign. Deep links directory submission service will definitely enhance our package effectiveness"
Among the many benefits of deep links directory submission as an Internet marketing technique are:

Acquire quality one-way links
Improve search engine ranking
Garner keyword-targeted web traffic
Allow multiple URLs submission instead of just the index page
Enhance link popularity for multiple web pages
SearchMarketingSales.com deep link directory submission service is also set at a low affordable price. The company has been reported to be receiving extremely heavy orders for this proven and eagerly sought-after website promotion service even as we speak. A brief breakdown of SearchMarketingSales.com directory submission services:
Up to 2000 Manual Directory Submission
Up to 2000 Manual Directory SEO Submission
500 Deep Links Directory Submission
500 Deep Links Directory SEO Submission
Special discount offer now available only in this press release:-

SearchMarketingSales.com was founded in 1999 to provide webmasters with a wide choice of extremely affordable Website Promotion Services or Affordable SEO Services to rank Top 10 in Google.
###