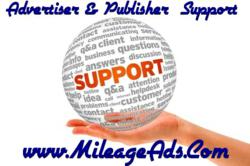 Houston,TX (PRWEB) February 11, 2013
In today's digital world, it seems most large as well as small companies are finding out simple ways to brand and leverage themselves in the online advertising world. Banner Ads are still the trend in 2013 and continue to pop onto the digital scene in effective and not-so-effective ways. One online advertising company, Mileageads.com offers marketers the 7 Best Tips for Banner Ads, showing advertisers what makes ads pop and what makes ads drop.
Mileageads.com, the best one-stop-shop for online advertisers and publishers offers the best tips to online advertisers by sharing the 7 top secrets to leverage the online market with banner advertising. Mileageads.com has done the work for the online marketer by sharing specific details and helpful hints for advertisers thinking about banner advertising as a tool.
It starts with being able to target the market, says one online advertising professional from Mileageads.com. "By placing banners on websites that fit specifically to the market, an online advertiser can reach its audience in a more effective and time leveraging way," continues the ad professional. Another useful tip for online advertisers is to be obvious about what's being advertised. Web surfers, online shoppers, consumers and other business people are geared for time saving-ways to find what they are looking for. Leading them on will only make your online banner ad ineffective and lifeless.
Another helpful hint for online banner ads is call to action banners which keep consumers engaged and entertained. Call to action banners give the customer incentives to follow through on clicks and eventually buy as an end result. Other helpful tips from Mileageads.com include: being honest about the banner ad, drawing attention to the banner ad with animations or bright images, being provocative in the copy writing with enticing words and taglines and changing banners . According to the ad pros at Mileageads.com, "There are many effective ways to advertise online, and trends change constantly. Staying on top of the trends and being open to the ever changing digital world is the best hint offered for successful banner advertising."
For more information and to find out more about banner advertising, online advertising and publishing, visit http://www.mileageads.com on the web.
About MileageAds
MileageAds.com provides individuals, entrepreneurs and small businesses with affordable and extremely effective online marketing solutions.It was developed to provide advertisers with an affordable online marketing solution that brings tremendous results via CPC and CPA advertising. MileageAds.com also offers opportunities for publishers, who can earn a tidy sum by displaying advertisements via their profitable and easy-to-integrate publisher program. MileageAds.com maintains a commitment to customer satisfaction. And the Mileage Ads team works hard to ensure that advertisers and publishers alike are satisfied and that their questions are answered in a timely and efficient manner.