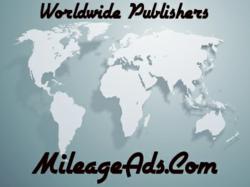 Houston,TX (PRWEB) February 10, 2013
Last week, we heard about Cost Per click prices for a major social website fluctuated as advertisers adjusted to a new mode of ad delivery as compared to a traditional sidebar ad. MileageAds is highlighting simple tricks like the one above for advertisers. With so many advertising sources flooding the internet, many internet marketers and online publishers are just looking for a simple way to stay afloat. Even the sophisticated and more experienced marketers look for new and strategic ways to advertise on the internet. It seems the old adage "work smart not hard" is still the popular approach among experts as well as ingénues.
There are many advertising choices for companies looking to build their brand, sell their products and services or gain new and prospective clients. With that in mind, online advertisers are constantly conjuring up new and effective promotions to reach those businesses. One website, Mileageads.com is already ahead of the trend by offering a "one-stop shop" style website for publishers and advertisers. The website offers straightforward tips and tricks for the online advertiser as well as insights on the latest trends saturating the online advertising arena.
Mileageads.com anticipates the new website will shed some light, offer strategies and open up a line of communication between online marketers paving the way and breaking new ground in the industry. The site also looks forward to aiding in new partnerships and creating an insightful forum for advertisers and publishers within the digital advertising dome. The originators of Mileageads.com foresee building a strong community of networkers, internet marketers and publishers who will support the online advertising industry which seems to be rising quickly and steadily. According to an article written by Gabe Donnini on Marketing Land.com, an online marketing industry magazine, at the onset of 2013, the growth of online advertising continues at a healthy pace. The article continues with, additionally, in October 2012, the Interactive Advertising Bureau (IAB) released a report showing record-breaking, $17 billion online advertising revenues in the first half of 2012. With this information, Mileageads.com is way above the inclination for 2013 with its tips and tricks website for the online advertising industry and will accordingly continue to soar.
About MileageAds
MileageAds.com provides individuals, entrepreneurs and small businesses with affordable and extremely effective online marketing solutions.It was developed to provide advertisers with an affordable online marketing solution that brings tremendous results via CPC and CPA advertising. MileageAds.com also offers opportunities for publishers, who can earn a tidy sum by displaying advertisements via their profitable and easy-to-integrate publisher program. MileageAds.com maintains a commitment to customer satisfaction. And the Mileage Ads team works hard to ensure that advertisers and publishers alike are satisfied and that their questions are answered in a timely and efficient manner.