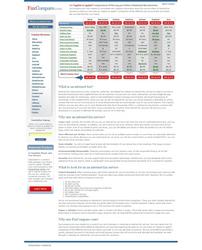 Compare E Fax Services View a Comparison Chart of E Fax Services and Sign Up for One.
Austin, TX (Vocus) April 2, 2009
Earlier this week, subpoenas were served to a number of Internet fax service providers featured on Zilker Ventures' website FaxCompare.com at the request of j2 Global Communications. Zilker Ventures, an Austin, TX-based small business, was served with a lawsuit from j2 Global Communications in the United States District Court for the Central district of California, Case No 2:08-cv-07470-SJO, alleging trademark infringement for use of j2 Global's brand name 'eFax' on Zilker Ventures' online fax review website FaxCompare.com], and for unfair trade practices. A hearing on Zilker's motion to dismiss is scheduled for April 20.
j2 originally registered the word 'eFax' and certain variations of the word on the supplemental register of the United States Patent and Trademark Office, disclaiming any exclusive use of 'eFax.' More recently, j2 Global sought to move its mark onto the principle register, claiming that it has achieved secondary meaning, and thus, exclusive rights. However, a j2 Global competitor, Protus IP Solutions, owner of MyFax, has filed objections to j2's trademark application for 'eFax' based on the generically descriptive nature of the word. Earlier this year, Protus won a similar objection to the 'eFax' trademark in the United Kingdom, resulting in j2's loss of trademark protection for 'eFax' in the UK.
Zilker Ventures has filed court papers vigorously defending the allegations of trademark infringement and unfair competition made by j2 Global. Moreover, Zilker has filed counter-claims against j2 Global, seeking a court order which declares the words 'efax' and 'e fax' as descriptive of electronic and/or email facsimile services and declares j2's claim of exclusive use to be without merit.
Zilker has further requested the court to declare FaxCompare.com's descriptive use of the words 'efax' and 'e fax' as non-infringing. Finally, Zilker has requested an early ruling that j2 Global's lawsuit has violated California's anti-SLAPP law ('Strategic Lawsuits Against Public Participation') which provides for early dismissal and an award of attorney fees for lawsuits filed against companies because they have exercised their right to speak out on public and consumer issues.
In response to inquiries about the lawsuit, Zilker Ventures & ChooseWhat.com have provided the following information. Zilker Ventures owns and operates FaxCompare.com, which presents 'apples to apples' comparisons of service offerings and consumer reviews for electronic fax services such as MyFax, MetroFax, RingCentral, GoFaxer, TrustFax, RapidFAX, eFax and others. Zilker Ventures uses the word 'eFax' on its web site merely to identify and link to j2 Global's eFax services, as it does with the brand names of other electronic fax vendors. Zilker Ventures also uses the words 'efax' and 'e fax' as keywords for its Google AdWords campaign and in the text of Google advertisements which state, for example, "Compare E Fax Services View a Comparison Chart of E Fax Services and Sign Up for One."
According to allegations made by Zilker in the lawsuit, j2 Global's 'eFax' brand charges approximately 70% more than many of their competitors for approximately 50% fewer fax pages per month. Zilker believes that this lawsuit is designed to preclude consumers from seeing side by side comparison information.
On behalf of Zilker Ventures, CEO Gaines Kilpartick provides the following comment: "As the dominant player in the electronic fax business, j2 Global does not want consumers to see an 'apples to apples' comparison of its service with smaller and more attractively priced internet fax competitors. A web site such as FaxCompare.com is popular with consumers because it easily allows them to compare electronic fax service providers."
Kilpartick continued, "Stopping us from using 'e fax' as an AdWords keyword would help ensure that the consumers searching for electronic fax providers might only see j2 Global's 'eFax' brand returned as a primary Google search result and would limit information about competing services."
To learn more about online fax services, please visit http://www.FaxCompare.com .
More information about this lawsuit and documents pertaining to the case can be found at FaxCompare.com/j2lawsuit.
###